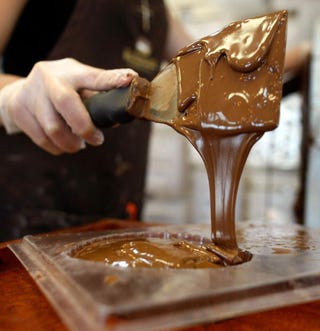 On Halloween, an estimated 36 million costume-clad trick-or-treaters will be out in search of some good scares and bags full of candy. Lucky for them, more than half of American households will hand out chocolate candy, much to the added delight of the chocolate industry, which stands to make hundreds of millions of dollars this Halloween. But what celebrating consumers might not know is that we indulge our collective sweet tooth at the expense of forced, trafficked and child labor in West Africa.
The vast majority of chocolate candy is produced from cacao grown under dubious labor conditions. In fact, the use of slavery was critical to large-scale cacao production for centuries, as it was for other labor-intensive crops such as cotton and tobacco.
Though slavery has been legally abolished worldwide, serious labor abuses on cacao plantations remain. These problems persist throughout West Africa's Cameroon, Côte d'Ivoire, Ghana, Guinea and Nigeria, which collectively produce nearly 70 percent of the world's cacao. The U.S. State Department estimates that, in Côte d'Ivoire alone (producer of more than 40 percent of the world's cacao), more than 100,000 children work under the "worst forms of child labor," and that at least 10,000 children are victims of human trafficking and enslavement.
The chocolate industry is well aware of these problems. In 2001, under pressure from watchdog groups and the U.S. government, major chocolate producers signed the Harkin-Engel Protocol (pdf). The protocol brought together industry, West African governments, labor organizations and nongovernmental organizations in an international agreement aimed at ending the worst forms of child labor in cacao cultivation.
It asked that chocolate companies acknowledge the problem in a highly public way, establish action plans and means of reporting on conditions, and develop and implement standards of public farm-level certification to guarantee labor protections. While this agreement has led to minor improvements in the industry, the largest chocolate companies have moved at a snail's pace for the past decade.
Hershey's, which commands the largest share of the U.S. chocolate market (42.5 percent), consistently receives a failing grade from Green America, Global Exchange and the International Labor Rights Forum for taking no action toward instituting verified third-party systems to investigate or prevent forced-, trafficked- and child-labor abuses. The 2011 report "Still Time to Raise the Bar: The Real Corporate Social Responsibility Report for the Hershey Company" demonstrates how the company lags behind every other major chocolate producer in meeting the standards set in the Harkin-Engel Protocol.
Mars, Kraft and Nestlé have at least made publicly stated commitments to purchase third-party certified, fairly traded cacao for some of their products. Keep in mind, however, that they are still far behind when it comes to full backing of ethically sourced chocolate — Green America grades (pdf) Mars, Kraft and Nestlé in the D range, compared with Hershey's F.
So what can you do?
First, choose ethically sourced Halloween chocolate candy. I've compiled a comprehensive list of fairly traded Halloween chocolate with price comparisons and recommendations on where to buy on my blog, Bittersweet Notes. These candies are kid-friendly, individually wrapped and affordable for a range of budgets. Most important, they are made from ethically sourced chocolate and serve as alternatives to more popular chocolate brands.
Second, tell major chocolate companies to do better. If you support ethical chocolate, contact the companies — Hershey's, Mars, Kraft, Nestlé — behind your favorite brands to let them know how you feel.
Third, learn more and spread the word. Educate yourself and other consumers about this issue. Share this article and others like it. If you're a movie lover, check out the film The Dark Side of Chocolate. If you're a bookworm, check out Carol Off's Bitter Chocolate: The Dark Side of the World's Most Seductive Sweet or Órla Ryan's Chocolate Nations: Living and Dying for Cocoa in West Africa.
Historical reliance on slave labor for cacao cultivation provided us with a luxury product at a discount price and left us with the exaggerated sense that chocolate should be inexpensive. It is in the best interest of present-day companies to keep prices and thus transparency as low as possible. They are, after all, satisfying our appetite for cheap chocolate.
The system by which we obtain chocolate is broken. Entire developing countries' economies hinge on the price of cacao, traders make risky bets on the commodity and millions of lives are implicated in the process. On Halloween, consumers generally care about quantity over quality, rendering the holiday the largest by chocolate-candy volume in the United States, but only the fourth largest in terms of sales dollars. We might save a buck on our junk food, but at what cost?
We won't solve these problems with our purchase choices tonight alone. Yet Halloween represents a chance to reach millions of people, children included, with the message that we must insist on better from both the chocolate industry and ourselves.
We all have our own chocolate preferences, ranging from mass-produced confections to artisan bonbons and craft bars that highlight chocolate's many delicious virtues. Whenever and whatever we eat, it is essential to consider the human cost of our consumption. The food movement teaches us that, through the development of wholesome relationships, food can be good both for us and for those who grow it. Our standards for chocolate should be no different.
Carla Martin is a Ph.D. candidate in African and African-American studies at Harvard University and the author of the blog Bittersweet Notes, an open-source research project on chocolate, culture and the politics of food. Follow her on Twitter and Facebook.