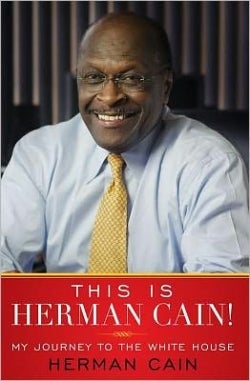 In the shadows of racial debate, controversial campaign ads and contentious White House aspirations, GOP hopeful Herman Cain is quite the divisive character when it comes to this season's lot of presidential hopefuls. But in light of the media storm, the former Godfather's Pizza CEO has garnered buzz and generated waves across the GOP — and his autobiography, This Is Herman Cain! My Journey to the White House, may shed light on Cain's rambunctious campaign style.  
This is Herman Cain! recounts Cain's life from his modest childhood among the social ills of the segregated South to his rise to success as CEO of one of the nation's largest pizza chains. More than a mere campaign manifesto, Cain's latest autobiography delves into the inner workings of an often misunderstood man, whose tumultuous yet equally triumphant life plays an integral part in his bid for the Oval Office.
Previous recommendation: 2 Upcoming Films Highlight Airmen's Heroism.
Got ideas for The Root Recommends? Send them to recommendations@theroot.com.