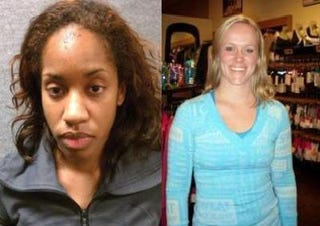 The Washington Post is reporting that a jury has convicted Brittany Norwood of first-degree murder in the slaying of a co-worker at an upscale yoga-clothing store.
It took Montgomery County Circuit Court jurors less than an hour on Wednesday to reach the guilty verdict in the brutal slaying back in March that sent shockwaves across the globe. The victim, Jayna Murray, endured at least 331 stab wounds in the sensational murder case.
At first, Murray's slaying and Norwood's tale had merchants and shoppers fearful of random killers around Bethesda Row. Murray was found March 12 when a manager at Lululemon arrived at work to find the shop in disarray and called 911. Murray was dead in a back hallway, surrounded by blood. Norwood was in a bathroom, tied up and moaning.
From a hospital bed, Norwood began to tell detectives a string of lies. She said two masked men slipped into the store after closing and attacked her and Murray. It was an elaborate tale of a double rape and a threat to slit her throat. She said that one of the men pummeled Murray and that one dragged her by her hair. None of it was true.
Norwood soon became a suspect. Her story didn't add up. The evidence — bloody shoeprints, her own minor injuries, blood in Murray's car — didn't track with her account. She was charged seven days after the slaying.
Jurors convicted Norwood, even though prosecutors never presented them with a motive for the killing. That night, authorities have said, Murray checked Norwood's purse as the two left the store — a common anti-theft procedure. In the purse, Murray found a pair of yoga pants that she thought Norwood had stolen.
The two women left for the night, but Norwood called Murray and said she had left her wallet behind. They met back at the store.
Read more at the Washington Post.
In other news: VIDEO: Fried Chicken Cinema.