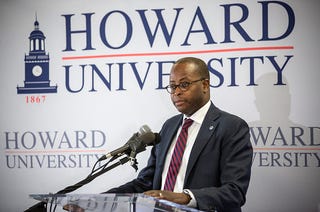 In her very first meeting in her new gig, embattled Education Secretary Betsy DeVos visited Howard University on Thursday to meet with university leaders.
The meeting at the historically black university, founded in 1867, was one where she was welcomed—at least by the administration—unlike at the Washington, D.C., public school where she was denied entrance by protesters the very next day, the Washington Post reports.
DeVos, who barely made it to her position (her confirmation was tied in the Senate, with Vice President Mike Pence breaking the tie), may be making good on Donald Trump's reported interest in supporting HBCUs.