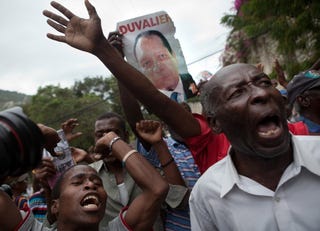 We can guess the identity of one of the names that appeared on the WikiLeaks list of wealthy people abusing Swiss offshore financial centers. MSN.com is reporting that former dictator Jean-Claude "Baby Doc" Duvalier has been charged with corruption, theft, misappropriation of funds and other alleged crimes committed during his 1971-1986 rule. "His fate is now in the hands of the investigating judge. We have brought charges against him," Port-au-Prince Chief Prosecutor Aristidas Auguste told Reuters. The charges must now be investigated by the judge, who will decide whether a judicial case should go ahead.
Earlier, Haitian police detained the former dictator, escorting him from the hotel where he had been staying. Human rights organizations have been calling for Duvalier's arrest for crimes against humanity. We suppose these charges will have to suffice, for now.
Read more at MSN.
In other news: 'Baby Doc' Duvalier Escorted From Hotel by Police.