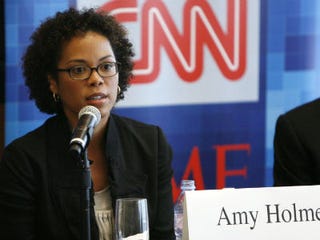 Mediaite reports that CNN analyst Amy Holmes is set to join Glenn Beck's live streaming video network, the Blaze, as a news anchor.
Holmes has previously co-hosted Talk Radio Network's America's Radio News and contributed her conservative viewpoints to CNN. She'll anchor segments during Beck's 5-7 p.m. news program and will provide additional updates throughout the day.
"Being a part of the launch of a major new venture is thrilling — especially one powered by the tremendous energy, creativity and positive entrepreneurial spirit of Glenn Beck. The Blaze has assembled an impressive team of experienced editors and journalists who I look forward to working alongside to deliver thoughtful and compelling news coverage every day on GBTV," she said in a statement today.
While we may differ with Holmes on the definitions of "thoughtful" and "compelling," we can understand the enthusiasm. She gets an additional outlet for her "token Republican black woman" talking points, and Beck gets an African American to co-sign his inflammatory and racist rhetoric. Sounds like a match made in right-wing heaven.
Read more at Mediaite.
In other news: VIDEO: Reporter Confronts London Rioters.