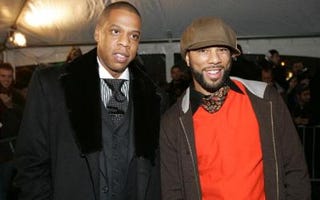 Like many rappers, Common has a lot of irons in the fire.
He's been promoting his new memoir, One Day It'll All Make Sense, which recently landed on the New York Times best-seller list. He's set to star as a freed slave in AMC's new Western drama, Hell on Wheels, which begins Nov. 6. He's putting the finishing touches on his latest album, The Dreamer, The Believer, which hits stores Nov. 22.
The Chicago native joins a long list of hip-hop artists who have branched out into other areas of entertainment — including TV, movies, books and fashion. It's become common, so to speak, to see rappers on screens both big and small. But artists such as Queen Latifah and Ice Cube are extending hip-hop's reach behind the scenes with productions deals for movies and TV shows that create roles for African-American actors. Some artists, like 50 Cent, are even turning enterprise into philanthropy. And one artist — Shawn Corey Carter, aka Jay-Z — is taking hip-hop further into the upper reaches of business and politics.
During hip-hop's Jurassic period (late '80s to the mid-'90s), artists would catch heat if they weren't "keepin' it real" — staying true to the 'hood. Corporate America had yet to tap the aura of cool that came with hip-hop's blessing. Those days have long been gone, replaced by the hustler's ethos to make money by any means necessary. And the "means" these days include TV shows, clothing lines, movie deals and even — in the cases of Jay-Z and Will Smith — ownership of sports franchises. Success is no longer being measured only by record sales, cars and jewels; now it's being measured by return on investment in diversified portfolios, too.
Hip-hop, more than most genres, is subject to the vagaries of youth — the music industry is always on the hunt for the "new hotness" that will attract the fickle teenage market, especially as record sales continue to slide. So it makes sense for rap artists to pursuit other endeavors to stay in the limelight.
Early on, Def Jam co-founder Russell Simmons embraced the idea of expanding hip-hop's reach into fashion and TV. But Will Smith was one of the first performers to cross over into other areas of pop culture when, in 1990, he parlayed his Fresh Prince persona into a wildly popular TV series, which led to roles in blockbuster films such as Independence Day, Men in Black and Bad Boys.
The transition to TV and films was a smart move for Smith since hip-hop was developing a harder, grittier edge — the opposite of the fun-loving, party music he and DJ partner Jazzy Jeff were churning out. Earning Oscar nods for his performances in Ali and The Pursuit of Happyness proved the rapper from Philly could do more than just talk the talk.
Now he and his wife, Jada Pinkett Smith, are raising the next generation of stars. Daughter Willow is finishing a debut album after releasing a few buzz-worthy singles, and son Jayden starred in the highly successful reboot of The Karate Kid.
Smith paved the way for Latifah, who branched out from rapping to reign over both TV (Living Single) and the big screen (Set It Off and Chicago, which earned her an Oscar nomination). Now Latifah is finding success as an executive producer for two TV shows — BET's Let's Stay Together and VH1's Single Ladies.
Latifah knows none of it would have been possible without hip-hop. "I'm proud of everything I do, but I think I'm the most happy about becoming a rapper. It was my entrance into everything," she told Parade.com. "That helped me get into acting. That's a tough business for anyone to crack into, but having some marquee value already as a hip-hop artist helped me get into acting."
Although she's thankful to hip-hop, its failure to nurture and support female rappers will always be a sore point, and perhaps offers an explanation for why she moved away from the rap game. "We can't just have one [female] rapper … the industry has gotten [terrible] in that sense by not supporting and making sure that our voices are heard. It just became so male-dominated. To me, hip-hop will never be right until female rappers have a stronger voice in it," she said.
Ice Cube, who can currently be seen shilling for Coors, reportedly is slated to produce and direct a movie about car culture for Disney. Things certainly have changed for an artist who once belonged to a group that proudly declared "f—- tha police."
Surviving nine gunshots gave rapper 50 Cent plenty of street cred. But now Fitty calls the shots after he scored a $100 million windfall for his stake in VitaminWater when the parent company was sold to Coca-Cola in 2007, according to Forbes. His portfolio features a variety of ventures, includes a movie production company, a clothing line and a Reebok sneaker deal. For his next act, 50 Cent is using his latest project, an energy shot called Street King, to help feed the poor.
Few have merged hip-hop and Wall Street with as much savvy as Jay-Z, whose empire includes Roc Nation, the 40/40 Club chain and a stake in the New Jersey/Brooklyn Nets franchise, putting his net worth at $450 million, according to Forbes. Sean "Diddy" Combs may top the list of wealthiest hip-hop artists with a net worth of $475 million, but who has appeared on the cover of Forbes magazine with billionaire businessman Warren Buffett? Who has received multiply invites to the White House? One S. Carter. 
For Jay-Z, success in business is personal. "My brands are an extension of me. They're close to me … My thing is related to who I am as a person," he told Men's Health magazine. And anyone looking to duplicate Jay's success, his version of "keepin' it real" — staying true to yourself — offers a blueprint. "All my businesses are part of the culture, so I have to stay true to whatever I'm feeling at the time, whatever direction I'm heading in. And hopefully, everyone follows."
Genetta M. Adams is a contributing editor for The Root.