Kind of Harsh
GW on Cain Launches 'Revolution Solution' Bus Tour: "This guy is like a giant turd that won't flush, just can't get rid of him."

Change for the Better
Peacelady on Give Metta World Peace a Chance: "Commentators calling NBA games are forced to say 'world peace' several times during Lakers games. I think it sends out a good vibe even during a sporting event. Love Metta!"
Too Smart for Santorum?
G/O Media may get a commission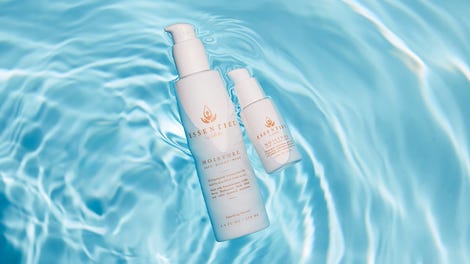 20% off
Essentiel by Adele
Skegeeace on Santorum's Sticky Views on Entitlements: "In other words, he thinks EVERYONE is stupid. 'I didn't say black … I said blah.' Do you want a president that thinks you're stupid?"
Don't Blame Facebook
Bigruss on My Mate Won't 'Friend' Me on Facebook: "I think it is BS to say that social networking is ruining relationships. Cheaters ruin their relationships. A person's behavior is what it is regardless of the medium. If you truly love and respect your relationship with your spouse then nothing will be allowed to come between it."
Paul's Pattern
Guest on Ron Paul Confused by His Own Tweet: "Well, he's mostly right that it's fairly irrelevant as to what the tweet actually contained. The relevant piece is absolutely this pattern we see with Paul, always passing the buck to 'some unknown other,' which lends the appearance of never knowing what his 'people' are doing. Not very presidential, indeed."
No Authenticity
Cedric Mays on The Curious Case of 'Porgy and Bess': "As a member of a culture and group of peoples in this country whose history and image has been intentionally distorted to cause harm, I must say that Porgy and Bess stands as a prime example of this distortion. I am from the Low country of South Carolina which is where this story takes place, and I have known old folks who came of age during that era and I also know their children and grandchildren to whom the customs and traditions have been passed down. Porgy and Bess does not take any of the culturally specific behaviors and customs of black Charlestonians into account."
At Least It's Not 'Love and Hip-Hop'
WandaDoesIt on 'Sh-t Black Women Say' Video Sparks Outrage: "I did not find this video amusing in the least. However, it is FAR less offensive than the plethora of reality television shows on the air, where too many of our young women willingly offer to degrade themselves for instant fame."
Pre-Post-Racial
cocoasmommy on Black Social Elite Redefining High Society: "I don't expect to see complete racial equality during my lifetime, because of human nature being what it is. However, as I am halfway through my sixth decade, I do find it gratifying to see that barriers continue to be broken and changes become commonplace. I remember when my grade school was first integrated. It seemed unusual then, but now no one thinks twice about it."
Aunt Viv's Biggest Fan
Indigenous on Aunt Vivian Rips 'Egomaniac' Will Smith: "Will Smith is the BIGGEST FLUNKY around!!! How else could he gotten so far, so quick, which is NOWHERE!!! Will Smith SOLD HIS SOUL TO THE DEVIL, A LONG TIME AGO!!!! In FACT, ALL OF the so-called black elite have LONG AGO sold their souls to the DEVIL!!!"
Race Wedge
Zora Renee on What About Poor White Kids?: "I realize that Americans have short memories, but just think back to when Clinton was president and 'welfare reform' was the topic of conversation — all of a sudden there were plenty of 'commercials' with white people talking about the hardship welfare reforms would have on them!! The fact is that race is not just used as a wedge, but is used [to get] whites to support policies that have disadvantaged them …"
Defend Until Death
hal bleavy on Paul Walks Out Over Racist-Newsletter Probe: "If you put your name on something you had better be ready to defend it until the day that you die."
Show Some Respect
TIGHTWRIGHT on Maya Angelou's Lesson About Black Speech: "I'm just thinking Common could have been a little more respectful of Ms. Angelou. I dare say he, me or you would not use the N-word around our parents, older relatives, etc. out of respect for them!! Yes, it is a term of endearment for some. But for many older Bros and sisters, the N-word has memories of devastating discrimination back in the day. Common should have told Angelou prior to her poem reading he was going to utilize the N-word in the song. That way she could have said thanks but no thanks."
Defined by Skin Color
drobertsonchow on My Son's Called African and I'm Upset; Why?: "My sons are mixed Chinese/white born to parents who were both born in the U.S. — they are very American. However, that did not stop them from being chased through the streets of an upscale suburban neighborhood by bullies yelling Chinese epitaphs at them, being segregated in high school with other Asians and being almost arrested in Africa by local policemen (who are not fond of the Chinese). Skin color defines people, not only in America but worldwide."
Let's Not Overreact
mbm1ame  on Why Forbes' Column Crossed the Line: "Am I the only one who thinks this is a non-issue and everyone is blowing it out of proportion? Although I think [the Forbes columnist] went about it in a rather tactless way that shows very poor journalism, it is a fact that poverty is a problem in the black community. Comparing him to Newt Gingrich is rather cruel because those two have nothing in common."
'Who woulda thunk?'
LG from NC on Is Obama Really the 'Food Stamp President'?: "Federal taxes at historically low levels at the same time when we have record unemployment and food stamp participation? Who woulda thunk?"
Product of the Times
Kinsmankid on James Earl Jones and His Racist Grandmother: "Given the fact she lived in Mississippi during the Jim Crow era, she would be crazy if she didn't have a mistrust and dislike of whites. I would guess she was only one generation from slavery. Maybe Jones was trying to prove that blacks are just as racist as whites. His grandmother is not a good example. She was trying to prepare him for the prejudice he would encounter as a black man in America."
History Repeating
icantrememberallofmyaliases on Ice Cube Confirms New 'Friday' Film: "Running out of ideas, eh? Addicted to the past."
A Private Matter
Pfunk on Cain's Alleged Mistress: 'Not Sex for Cash': "The allegations of sexual harassment concern me. However, him having a consensual affair with another woman is a concern between him and his wife and not really my business."
Basic Concepts  
JBradley05 on Tyrese to Black Women: Don't Be Too Independent: "Women can't live without men and men can't live without women. Have we become so 'politically correct' that this basic concept is no longer relevant?"
Code-Switching  
MMikeJBenN on 'The Bell Curve': Veiled White Supremacy: Several of my co-workers, African-American males, are damn near geniuses. Having made those points, one thing that really vexes me is how so many of our kids, mostly boys, think being smart in school is 'acting white,' when in reality, excelling is what our ancestors did."
Well-Earned  
visioninspired on Diddy's Son Earned Football Scholarship: "Just because Justin's dad is 'who' he is, it does not mean that he should decline a scholarship offer that he earned. Part of being independent and becoming an adult is learning to earn your way in this world. Hard work academically/athletically is his reward. His dad's ability to pay does not determine his ability to play. He will earn every dollar on the field and in the classroom."
Siri-ously?  
LG from NC on Is Siri Sexist?: "Wonder why some of us have trouble taking advantage of the opportunities out there? Too much time spent looking for discrimination in the most random locations. Even if the thing prefers to find Viagra, that's not even being sexist; it's called being capitalist."
Change Is Coming  
Gee Love on Obama Commutes 22-Year Crack-Cocaine Sentence: "We want change and we're going to get it and no politician is going to stop us and guns won't either. The change we want is for our government to be for and about the American people, all American people. Our diversity is our strength and our stubbornness and refusal to be serfs has always been an American strong point."
Give and Take  
llcheese on Racial Politics Did In the Super Committee: "I do not believe that the majority of whites are unaware of the racial nature of their politics, and I also believe that they understand that they are paying more while giving an advantage to the rich. Many do not mind giving more to the rich because many hope to eventually be rich themselves. Others are willing to sacrifice if it means that whites will remain dominant. For many, the power of whiteness is worth the sacrifice."
Let's Get This Straight  
Stonewall J on Kwame Kilpatrick Allegedly Took $10,000 Bribe: "Kwame Kilpatrick did not create the Detroit problem, it was there before. Everyone is trying to paint a picture that this black man brought down Detroit. It was the big autos that killed Detroit. Chicago has just as much corruption, but it has money and a strong economy. Detroit is a result of a lost industry — automobiles."
Surprise, Surprise  
Ebonycali on Black Nurses Can't Care for White Patients?: "This is not surprising, as a Medical Case Worker for the Department of Mental Health. I have been told by white mentally healthy clients that they would rather lose their minds than have me assist them. Oh, well."
Continue reading You Said It.

What's the Problem?  
mary davis on What Bill Cosby Means to White Populists: "Have we all gone mad? It is now a crime to tell our children to get married, don't have babies out of wedlock and move heaven and earth to ensure they get a first class education."
'I Wonder …'  
Pfunk on Cain Tears Up Over His Wife at Debate: "I wonder if he tears up knowing there are many Americans that have cancer but can't afford any health care like he can and have to just die because his party don't give a damn about them and tells them to blame themselves!"
Church and State  
hal bleavy on How Christianity and Government Should Mix: "Christianity and government should not be mixed, and if they are it should only be a very small amount. The GOP candidates can say these things because a great deal of Americans don't know much about the Bible and no network news anchor is going to say that someone has just misquoted the Bible or that this candidate's speech and actions go against the teachings of Jesus Christ."
Enough's Enough
Hypestyle on An Open Letter to Tyler Perry: "At this point, if [Tyler Perry's] anecdote about an 'angry sista' confronting him about a rumor that Kim Kardashian has the lead role in his next film inspires this kind of hyper-venom (still seething about her stint with Reggie Bush?), well, God bless."
Business Is Business
Kinsmankind on Tyler Perry Letter Defends Kim K Casting: "I'm a Tyler Perry fan who plans to see the movie featuring Kim K. Any producer with sense is going to cast someone who is extremely popular in order to build his audience. Kim has a strong following among young people. She'll be good for the box office. If Hollywood discriminated against people who have divorced, 90 percent of actors and actresses wouldn't have jobs."
'Slave Mentality'
Stepisinlove on DNA Evidence Frees 4 Black Men: "There will be many more African-American men who will be free from DNA testing. We've got to continue to fight for the freedom of African-American men to ensure the success of our families. So many African Americans have given up, particularly our women regarding finding viable, goal-oriented African-American men, and that's a shame because that is exactly what the system wants them to think. That's a slave mentality!"


Not-So-Stately Words
Icantrememberallofmyaliases on Is Gloria Cain a Harassment Enabler?: "Wow! I didn't know he called Pelosi 'Princess' and Bachman, 'Tutti Frutti.' He's sexist for sure."
Rising Costs
B. Williams on Congress Blocks School Lunch Rules: "It might be 14 cents a lunch today ($6.8 billion over 5 years), but the cost of obesity is $147 billion per year and rising. ConAgra, Coca-Cola and others will whine at first. Two years later, ConAgra's carrot sticks and baked veggie chips would have been in cafeterias across America. Corporations trump the public good again."
Comedic Relief
Pfunk on Alleged White House Shooter 'Hates' Obama: "I hate green peas but I don't think about shooting up the place."
It's Simple
QuietThoughts on What Separates Pro Athletes From Their Money?: "Two biggest reasons, Ego and Stupidity."
'Any Way They See Fit'
jmichaels on VIDEO: Cain Applauded After Dismissing Harassment Claim: "Of course, the Republican crowd applauded. As conservatives, they believe the powerful have the right to treat those with less clout any way they see fit, because the well-heeled have earned this right through hard work and superior intellect. They believe an employer can treat their subordinates like trash. After all, the persons have the ability to quit if they don't like it and work for someone else who will treat them like dirt."
'Money and Power'
judaye on Rally for Joe Paterno an Insult to Victims: "What gets me is Paterno's arrogance. He actually thinks he has the right to finish the season because of all the money and power that allowed Sandusky's alleged hideous crimes and sickness to continue over so many years. I hope Paterno is wrong."
'A Class Act'
whoiam on Rapper Heavy D Dead at 44: "What an incredible talent! While he may be gone far too soon, he will not be forgotten. R.I.P., Heavy D. You were a class act!"
A Talentless Talent
chriso on Should Rihanna's Popularity Surprise Us?: "Giving Rihanna credit for her music is like saying Ronald McDonald makes good burgers. She doesn't play an instrument, write lyrics or music. She is good-looking, can sing and has a major company spending money to promote her."
DSK, Part Deux?
ronjayaz on Fourth Herman Cain Accuser Speaks Out: "Sounds like DSK déjà vu? But the presence of Gloria Allred is ominous, indeed. Hell, he's finished but as long as he stays the better for Obama & the worse for Republicans."


The Greater Good
BLKSeaGoat on Occupy Atlanta Unites Bloods and Crips: "So they can come together for this, but not to sustain their own neighborhoods and contribute to society?"
'Own Up'  
BaddaDanU on Songs Jay-Z Doesn't Want His Daughter to Hear: "The best, smartest, most responsible thing Jay could do is own every last word of every last rhyme. Own up to it, claim it, refuse to deny it or distance himself from it."
A Colorless Equation  
Troy Kuhao White on Police Who Killed Sean Bell Should Be Fired: "Can we stop and think what people are writing? Can we please put color aside and look at the crime done? Who cares what color anyone is. Cops can't be out there doing murder. That is what this is really all about; we are just one human race."
Falling Out of Grace  
SJ on Herman Cain Accused of Sexual Harassment: "Unfortunately for Cain in the purview of the public this is a cause for disqualification. The sad part is this might be his undoing when in fact his incoherent policy positions and ill thought-out tax reform plan should be the true determinants of his demise."
'Since When?'  
fsilber on Prison Costs More Than Princeton: "Since when is Princeton an alternative to prison? And what is the cost of letting a criminal run free?"
Wasteful Thinking  
lovingme on Does Ann Coulter Believe She Owns Black People?: "Discussing Ann Coulter is a waste of brain power, she's not worthy of discussion as far as I'm concerned …"