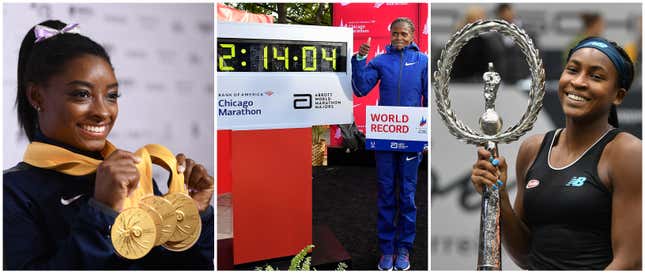 Apparently, 13 is a very lucky number—or at least, Oct. 13 was for Simone Biles, Kenyan runner Brigid Kosgei and 15-year-old tennis phenom Cori "Coco" Gauff, all of whom had groundbreaking performances to celebrate on Sunday.
Fighting "Lie-abetes": How To Spot And Combat Disinformation and Conspiracies In Politics | The 411: Part 2
Within a week of having yet another gymnastics move named in her honor and becoming the most-medaled woman in the sport, Simone Biles became the most medaled gymnast—of any gender—last weekend, when she took home four new gold medals at the FIG Artistic Gymnastics World Championships in Stuttgart, Germany.
"It's important to teach our female youth that it's OK to say, 'Yes, I am good at this,' and you don't hold back," Biles told USA Today, prior to shattering the record. "You only see the men doing it. And they're praised for it and the women are looked down upon for it. But I feel like it's good (to do) because once you realize you're confident and good at it, then you're even better at what you do."
"It's not out of cockiness," she added, evoking fellow GOAT Serena Williams as a role model. "I've won five world titles and if I say, 'I'm the best gymnast there is,' (the reaction is) 'Oh, she's cocky. Look at her now.' No, the facts are literally on the paper. I think it's important to teach (young girls) that."
That's right; Biles has the receipts, as does Kenyan marathoner Brigid Kosgei, who broke the women's world marathon record by 81 seconds on Sunday when she completed the Chicago marathon, besting British runner Paula Radcliffe's previous record of 2:15:25 at the London Marathon in 2003, and marking the fifth world record set during the annual Chicago marathon. Notably, Kosgei also won the London marathon this year. (Also of note: fellow Kenyans Lawrence Cherono proved fastest overall in this year's Chicago marathon, while Eliud Kipchoge was the first to complete a marathon in under two hours last week.)
"It's amazing for me. I've never believed that time [was possible]," said Kosgei, as reported by the Chicago Tribune.
Meanwhile, it may not be a world record, but it's close—and a significant first. Fiftee-year-old Coco Gauff became the youngest player to earn a Women's Tennis Association title in 15 years on Sunday, when she defeated Jelena Ostapenko at the Upper Austria Ladies final, becoming the youngest WTA winner since 2004. The win is expected to catapult Gauff's rank into the top 70.
"I'll definitely remember this moment for the rest of my life," said Gauff, who won a $43,000 prize, according to CNN. "One of the biggest thank yous goes to you guys," Gauff said to the crowd. "Thank you for your constant support this week. It's been an amazing week and I hope to come back in the future."