Updated Tuesday, May 23, 2017, 12 p.m. EDT: The woman who went on a racist rant in a Manassas, Va., Sprint store has been identified as Tiffany Cormier, The Root has confirmed from a source reached through Fusion. Cormier is married to a Latino man and works for American Airlines in its payroll department and has reportedly since been laid off, according to the source.
When The Root contacted American to verify Cormier's employment status, the airline stated that it does not confirm the employment of its employees but added, "We don't tolerate discrimination at American Airlines, and we are looking into these allegations."
Sprint is also getting involved in the fallout, asking the woman, along with her husband, to come forward to discuss the incident.

Sprint President and CEO Marcelo Claure released a statement Tuesday slamming the video, claiming that "this behavior violates a fundamental Sprint value of treating everyone with respect."
"Unfortunately, we're seeing an increase in hate speech like this across the country. No one deserves to hear this kind of language," the statement read. "This has got to stop. It's time to talk. It's time to learn. It's time to heal."
G/O Media may get a commission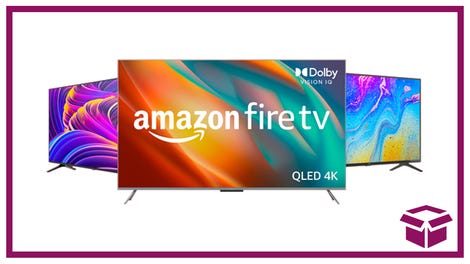 Ooh. stunning.
New Amazon Fire TVs
Claure invited the woman and her husband to "meet privately" with him to that he can "understand what drives comments and behavior like this," while also sharing his own views on the subject. Claure also stated that he is inviting the customer who was attacked, identified as Juan, to a meeting.
"This kind of behavior is not tolerated in any Sprint workplace. We value our diverse customer base and thousands of minority employees. We will confront head-on those who violate the respect that our customers and employees deserve," Claure said toward the end of the statement.

Earlier:
Another day, another deplorable going on a racist rant. This time an unidentified white woman can be seen on viral video berating a Latino man, calling him racial slurs, and even threatening him, inside a Manassas, Va.-area Sprint store after he merely tried to be helpful.
As the video starts, the woman can be heard on the phone telling someone, "I'm in Manassas in the ghetto," expressing her displeasure that she's already had to visit two stores that could not help her with whatever service she needed.
A man in the background can be heard trying to tell her, quite helpfully, that there is another store nearby in Fairfax, Va., but the woman doesn't take too kindly to the gesture.
"I wasn't talking to you. And don't listen to my conversation," she snaps. "You better watch who the fuck you're talking to 'cause I'm not the one."
The man, who is off camera, deadpans, "My name is Juan," and the woman appears not be deterred from her rant.
"I don't give a fuck what your name is," the woman says.
"All right," the man responds.

But, again, the woman will not be deterred from her rant.
"You see my husband standing there, right? Keep talking shit and watch and see if you don't meet that," the woman continues.
"Yeah, I'm right here," the man responds.
"And I ain't got no nails on. I'll fucking fight today because I ain't got shit to break," the woman adds. "I ain't scared of no fucking spic. This is my fucking country."
As the man comes into view and leaves the store, he says "Take it easy," to no apparent person in particular.
"They need to take his fucking ass back to Mexico," the woman says as the man again disappears from view.
Activist Shaun King posted a video of the encounter on Twitter and has already accumulated more than a million views in the past day or so. It is still not immediately clear who this woman is (and what her problem was).
A video of the account has also been shared on YouTube.