From NewsOne:
A woman charged with murdering her 3 1/2-week-old son used a knife and two swords to dismember the child and ate parts of his body, including his brain, before stabbing herself in the torso and slicing her own throat, police said Monday.
Otty Sanchez, 33, is charged with capital murder in the death of her infant son, Scott Wesley Buchholtz-Sanchez. She was recovering from her wounds at a hospital, and was being held on $1 million bail.
San Antonio Police Chief William McManus said the early Sunday morning attack occurred a week after the child's father moved out. Otty Sanchez's sister and her sister's two children, ages 5 and 7, were in the house, but none were harmed.
Otty Sanchez's aunt, Gloria Sanchez, said her niece had been "in and out" of a psychiatric ward, and that the hospital called several months ago looking to check up on her. She did not elaborate on the nature of her niece's health problems.
"Otty didn't mean to do that. She was not in her right mind," a sobbing Gloria Sanchez told The Associated Press on Monday by phone. She said her family was devastated.
G/O Media may get a commission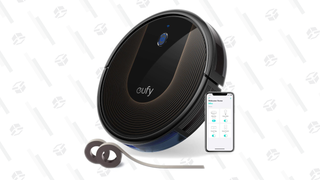 48% Off
Eufy BoostIQ RoboVac
McManus, who appeared uncomfortable as he addressed reporters, said Sanchez apparently ate the child's brain and some other body parts. She also decapitated the infant, tore off his face and chewed off three of his toes before stabbing herself.
"It's too heinous for me to describe it any further," McManus said.
McManus described the crime scene as so grisly that police officers barely spoke to each other while looking through the house. Parts of the child were missing, including pieces that Sanchez allegedly ate.
"At this particular scene you could have heard a pin drop," McManus said. "No one was speaking. It was about as somber as it could have been."
Officers called to Sanchez's house at about 5 a.m. Sunday found her sitting on the couch screaming "I killed my baby! I killed my baby!" McManus said. They found the boy's body in a bedroom.
Police said Sanchez said the devil told her to kill her son and that she was hearing voices."
Read the rest of the article here.
The Buzz does not advocate burying this woman under the jail. We advocate burying her under the place under the jail. Good grief.