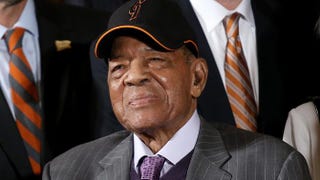 Baseball legend Willie Mays will receive the nation's highest civilian award—the Presidential Medal of Freedom—the White House announced in a statement Monday. The Hall of Fame center fielder, who spent the majority of his 22-year career with the New York and San Francisco Giants, is one of 17 honorees who will receive the award from President Barack Obama at a Nov. 24 ceremony. 
The ceremony will also honor the late Shirley Chisholm, who, as a representative from New York, was the first African-American woman elected to Congress.
Entertainment honorees include actress Barbra Streisand; film producer Steven Spielberg; theater composer Stephen Sondheim; and musicians Gloria and Emilio Estefan, James Taylor and Itzhak Perlman. Politicians include Sen. Barbara Mikulski of Maryland and former Rep. Lee Hamilton.
Other honorees include veterans advocate Bonnie Carroll; NASA mathematician Katherine G. Johnson; and former Environmental Protection Agency chief and former Deputy Attorney General William Ruckelshaus. New York Yankees great Yogi Berra, Indian tribal advocate Billy Frank Jr. and civil rights advocate Minoru Yasui will be honored posthumously.
"I look forward to presenting these 17 distinguished Americans with our nation's highest civilian honor," Obama said in a statement. "From public servants who helped us meet defining challenges of our time to artists who expanded our imaginations, from leaders who have made our union more perfect to athletes who have inspired millions of fans, these men and women have enriched our lives and helped define our shared experience as Americans."
Read more at Whitehouse.gov.