Over the past several days, the topic of Jay Z and Solange Knowles fighting in the elevator has ruled the Internet. Most people have wondered what provoked Knowles to attack Jay Z. Other people commended Jay Z for doing what was right and not retaliating against her with a few kicks and punches of his own.
But one media personality believes that any man, including Jay Z, should be able to hit a woman back during a fight.
Whoopi Goldberg, co-host of The View, doesn't have any double standards when it comes to violence. If you can hit, you can get hit back. During Tuesday's episode of the ABC talk show, she stated that Jay Z had every right to defend himself and hit Solange back.
"I think Solange was quite ready for him to do whatever he was going to do," Goldberg said. "This is the thing: If anybody hits you, you have the right—I know that many people are raised in a very different way—but if a woman hits you, to me, you have the right to hit her back."
Barbara Walters then asked Goldberg if that's the case even if it's a woman hitting a man. "If I slap a man, he has every right to slap me back," Goldberg stated.
Imagine if Jay Z had slapped Knowles back! The media spin on the situation would have been totally different. More than likely, the funny memes wouldn't exist, and we'd probably be discussing Jay Z being hauled off to jail, in addition to the issue of domestic violence against women.
G/O Media may get a commission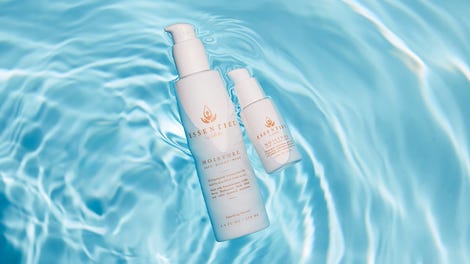 20% off
Essentiel by Adele
But should a man actually hit a woman back, as Goldberg suggests?
Considering the physical differences between a man and a woman, most of us would say that a man has a greater physical advantage. But others, like Goldberg, would say that you should be allowed to defend yourself regardless of the sex of the other person involved.
But not everyone is on Goldberg's side, and she's definitely receiving her fair share of side eyes on social media for the comments:
This isn't Goldberg's first time coming out in defense of a man hitting a woman. During the infamous Chris Brown assault of Rihanna, Goldberg seemed to be on Brown's side once he attempted to rehabilitate himself. During an episode of The View from 2012, Goldberg expressed sympathy for Brown.
"He is doing what he needs to be doing. He's done everything that was asked of him, and Rihanna's forgiven him," Goldberg stated.
"This is a young man that's out there, trying to do what he's supposed to do," she continued. "Nobody knows what happened, so all you haters out there, just find something else to hate until you get all the facts."
It's obvious that Brown was of the same school of thought as Goldberg—that if a woman allegedly hits you, then you can hit her back.
What do you think? Is it OK for a man to hit a woman after she's hit him? Share your thoughts in the comments section.
Yesha Callahan is editor of The Grapevine and a staff writer at The Root. Follow her on Twitter.
Like The Root on Facebook. Follow us on Twitter.