When it was announced earlier on Wednesday that Dean Baquet would step in to replace New York Times Executive Editor Jill Abramson, becoming the paper's first black executive editor, the Times'publisher declared, "There is no journalist in our newsroom or elsewhere better qualified to take on the responsibilities of executive editor at this time."
So, we know he'll be taking over this key role and making history soon. But besides being African American—and, by all accounts, a great fit for the job—who is Baquet?
Here are six things to know:
1. He's no stranger to the New York Times.  Baquet, 57, was the newspaper's managing editor—a role he'd held since 2012. From 1995 to 2000 he was national editor of the New York Times. Between those two stints at the paper, he served as editor of the Los Angeles Times.
2. He was fired from the Los Angeles Times after refusing to make extensive staff cuts ordered by its publisher.
3. He's a Pulitzer Prize winner. He earned the honor for investigative reporting (in the form of a piece on corruption in the Chicago City Council) back in 1998. He's also taken home the Peter Lisagor Award for investigative reporting and the William H. Jones Award for investigative reporting.
G/O Media may get a commission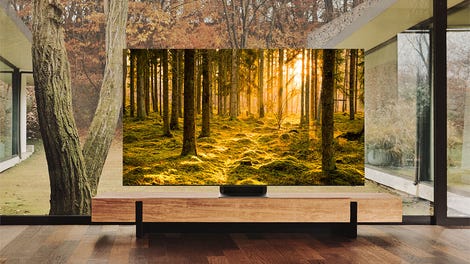 Up to 40% off
Samsung Smart TVs
4. He believes that a great newspaper acts as a watchdog. "I think a great newspaper is, first and foremost, responsive to its readers. I think a great newspaper prints the truth. I think a great newspaper's aggressive. I think a great newspaper … acts as the watchdog for the region that it covers … ," he said in a 2006 interview with PBS.
5. But he was once accused of blocking a story about government surveillance of Internet traffic.
6. He's hopeful about the future of journalism. Baquet said Wednesday, "It is an honor to be asked to lead the only newsroom in the country that is actually better than it was a generation ago, one that approaches the world with wonder and ambition every day. The talented journalists of the New York Times make it the greatest news operation in history, and I look forward to working with them to deliver the world's most engaging and enterprising journalism."
For more on the New York Times announcement, go here.