Since the June 17 killing of nine people at Emanuel African Methodist Episcopal Church in Charleston, S.C., six predominantly black churches in the South have burned in the past week, including one on Tuesday, causing many on social media to wonder #WhoIsBurningBlackChurches. (Fires have also hit two other churches—College Heights Baptist Church in Ohio and Fruitland Presbyterian Church in Tennessee—but neither is predominantly black.) As of right now, three fires at black churches in three states—Tennessee, Georgia and North Carolina—have been confirmed as arson. Here's what we know so far:
Mount Zion African Methodist Episcopal Church, Greeleyville, S.C., June 30
On Tuesday, fire crews from two counties needed four hours to put out a fire at the historic black church, according to the Washington Post. On Thursday, investigators said the fire was most likely started by natural causes and that "no criminal intent was found," according NBC News. This isn't the first time Mount Zion has burned. In June 1995, the church building was set on fire and two white men with ties to the Ku Klux Klan were arrested, according to the Post.
The Greater Miracle Temple Apostolic Holiness Church, Tallahassee, Fla., June 26
Officials say that the fire was caused by electrical wires that were exposed when a tree fell, but a state investigation is ongoing, according to the Tallahassee Democrat. Jacob Henderson Jr., the son of pastor Jacob Henderson Sr., received a number of calls at 5:15 a.m. Friday saying that the church was burning. Ironically, a marquee in front of the church from a revival more than two months ago still read, "Call 911! This church is on fire." Henderson told the Tallahassee Democrat, "We got such a large positive feedback from the sign that we kept it up for a while." Tallahassee Fire Department spokesman Capt. Mike Bellamy said that the fire caused $700,000 in damages.
Glover Grove Baptist Church, Warrenville, S.C., June 26
G/O Media may get a commission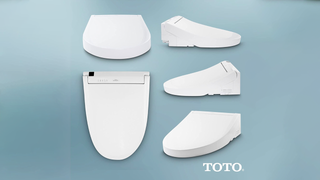 44% off
Toto Washlet Electronic Bidet Toilet Seat
South Carolina Law Enforcement Division agents are still trying to determine the cause of the fire at this Baptist church Friday morning, according to news station WRDW. Firefighters responded to the blaze around 3:30 a.m. Based on evidence so far, officials say they haven't found any indication of criminal intent.
Briar Creek Road Baptist Church, Charlotte, N.C., June 24
The Charlotte Observer reported that the FBI has opened a preliminary inquiry to find out whether there were any federal crimes committed in the intentionally set fire that severely damaged Briar Creek last Wednesday morning. A 911 call was made from a nearby residence at 12:52 a.m. "Opening a preliminary inquiry doesn't suggest that a hate crime has occurred," FBI Charlotte field-office spokeswoman Shelley Lynch said in a statement, according to the Observer, "but, rather, ensures that it is getting additional scrutiny for hate crime potential." According to the Observer, the left wing of the church, used for education, was severely damaged. Total estimated damages have reportedly reached $250,000.
God's Power Church of Christ, Macon, Ga., June 23
A fire investigator ruled the church burning arson, but an open file from the FBI has not classified the act as a hate crime, an FBI spokesman told WMAZ 13. J. Britt Johnson, special agent in charge of the FBI's Atlanta Division, released an FBI statement saying, "With regard to speculation that this fire could be looked at as a hate crime, again, no such ruling has been made."
College Seventh Day Adventist Church, Knoxville, Tenn., June 21
Knoxville officials are currently investigating the arson case at this predominantly black church. According to WATE 6, bales of hay just outside the church were intentionally set on fire, which also resulted in the burning of the church van. No explanation for why the church was targeted has been reported. Investigators are suggesting that the incident was an act of vandalism rather than a hate crime, despite the concerns of Knoxville community members.
Phillip Jackson is The Root's summer intern and will be a junior at Hampton University in the fall. Follow him on Twitter.