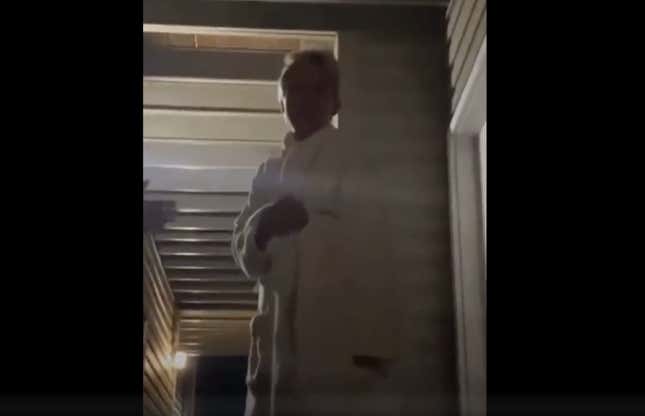 In recent months, we've seen people lose their jobs as a result of being racist. A woman in North Carolina has learned that it can also cost you your home.

Comedian London Hughes Talks New Book, Parents Watching Her Very Sexual Comedy, & Beyoncé
WTVD reports that Diamonte Ugbesia was visiting a friend at the Kings Cross apartment complex in Fayetteville, N.C., last week when a white woman came out and began shouting racial slurs at him. Ugbesia took out his phone and began recording for his own safety. "I hate Black people. I hate (n-word). I hate Black people," the woman is heard saying in the video. A man is seen approaching the woman and she tells him, "You better kill that (n-word)."

From WTVD:

"Get the f*** back down. I don't want anything to do with you. Don't record. You better kill that (n-word)."

At that point, another man in the hallway is heard telling the woman to stop calling him the n-word.

"Let him go, just go inside," the man said.

"I will never (expletive) a Black person in my life," she said. "Get down! He's like taking a picture of me right now."

"Because you're being ridiculous," the other man said.

"No, because he's stupid," the woman said.

The two then went inside the woman's apartment and Ugbesia stopped recording.
Ugbesia is a soldier in the U.S Army who is stationed at Fort Bragg. "I got deployed to Afghanistan. Me coming home from Afghanistan serving my country to a person saying they hate me based off my skin color? That's what I was mad about. You don't even know me." Ugbesia told WTVD. "I never heard somebody flat out call me the n-word or say they hate me. I was shocked, you know?"

The apartment complex quickly took action against the woman. Kings Housing Management sent an email to tenants at the complex that read:

"We have been made aware and received video footage of a disturbance that occurred at King's Cross last night. We have a zero-tolerance policy for inappropriate behavior or failure to live in a cooperative manner. Particularly, this incident not only violates our lease agreement but the ethical standards of our community and company and will not be tolerated.

We have taken immediate legal action to terminate the tenancy of the resident in violation."
Ugbesia was happy to see the complex take action against the woman and said she doesn't embody the values he fought to defend.

LTC Mike Burns of the 82nd Airborne Division issued a statement about the incident on Wednesday, WTVD notes. "It's unfortunate that one of our Paratroopers had to experience this. As an organization, The Army and the 82nd Airborne Division rejects hate and prejudice in all forms. It's not tolerated here, and is not indicative of the values we live by," the statement read.

Now I'm sure some white folks are lamenting "we can't even be racist without losing our homes?!" Considering that racism has resulted in countless black people losing their lives, I think it's safe to say they can handle an eviction notice.