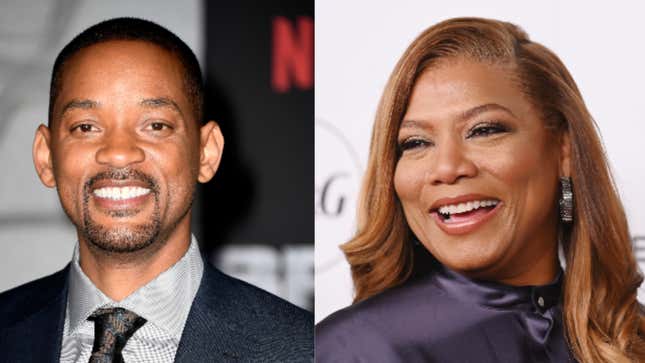 Ever secretly wished you could witness Romeo spit a hot 16 for Juliet over a DJ Mustard beat?
Comedian London Hughes Talks New Book, Parents Watching Her Very Sexual Comedy, & Beyoncé
Will Smith and Queen Latifah are joining forces to produce a Romeo and Juliet hip-hop musical for Netflix. Latifah will produce with Shakim Compere under their Flavor Unit Entertainment banner while Smith will serve as an executive producer via his Overbrook Entertainment with James Lassiter and Caleeb Pinkett.
Says The Hollywood Reporter:
The film is described as a contemporary musical take on William Shakespeare's tragedy set against the urban rhythms of New York. The love story follows a young waitress from the streets of Brooklyn and an aspiring musician from a wealthy family whose unconventional romance forces them to confront their life choices.
Solvan "Slick" Naim (Power, Snowfall, The Get Down) will direct the upcoming project. Naim co-wrote the script with Dave Broome (The Biggest Loser). Additionally, Broome and Yong Yam will produce for 25/7 Productions.
My favorite reimagining of Shakespeare's best-known work was 1996's Romeo + Juliet, starring Leonardo DiCaprio and Claire Danes. How could this new version top it? Glad you asked.
Romeo's infamous "spitting game at the balcony" scene will be remixed with, "But, soft ... oh yes, dat ass! What light through yonder Snapchat breaks? / It is the east, and Juliet is the bad bitch sun."
A dance battle between the Montague and Capulet boroughs (yes, boroughs). Perhaps Romeo can have a solo for Mercutio, who'd be his version of Lil Saint.
Due to the mass non-acceptance of their grand romance, the two young lovers vow to drink a chalice filled with poisoned purple drank.
To be honest, I'm really just hoping it recaptures the unbelievably ridiculous magic of MTV's Carmen: A Hip-Hopera. Moments like this, to be specific: