Since the heinous sexual assault allegations against Harvey Weinstein came to light last fall, the entertainment industry has faced a reckoning ... sort of. The #MeToo movement has inspired victims of sexual misconduct to come forward with their stories of abuse, and we've seen some (only some) horrible, powerful people face consequences for their actions. It hasn't, however, translated to the music industry, and it certainly hasn't benefited women of color.
A new BuzzFeed report addresses that head-on through the story of Jerhonda Pace—the 24-year-old mom of three who came forward with her story of being physically and sexually abused by R. Kelly in August 2017, a few months before the Weinstein news. Maybe it's poor timing, but R. Kelly continues to exist within the industry, completely unperturbed. Will Pace ever see justice? Will any of R. Kelly's victims, for that matter, with some abuses dating back to 2000?
When Pace was 15, she met her idol outside the court where his child-pornography trial was held in 2008. Abuses followed, and she waited to tell her story until 2017 because of a series of nondisclosure agreements she signed in exchange for cash.
Pace told BuzzFeed about coming forward before the Weinstein news and watching the fallout afterward:
I was livid, because when their stories came out, they received so much attention. It was just crazy, and I was like, "What about R. Kelly's victims? What about us?" Nothing happened for us.
G/O Media may get a commission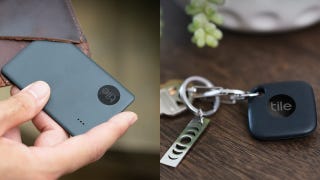 Up to 35% off
Tile Item Trackers
She also recounted all the conversations she's had with FBI agents and the experience of not being believed:
I really think that it's something that has not been taken as seriously as it should … I didn't feel that [any of the investigators] were passionate about it and that they were going to pursue it the way that it needed to be pursued. I was told that they want more witnesses to corroborate my story, which makes no sense: I'm the victim; I have the proof: He was paying me, I have the contract he signed, I gave them the DNA T-shirt, I gave them everything proving I was there, and they were like, "We need more people to say that they saw you [with Kelly]."
All the while, R. Kelly continues not only to exist without consequence—he thrives. Kelly performed at the Little Caesars Arena in Detroit on Feb. 21, and last year he hit the Billboard charts when he recorded "Juicy Booty," with Jhené Aiko and Chris Brown, another known abuser. Pace had some choice words for that, too:
It angers me. It pisses me off to know that he's still progressing; he's still out there making moves and doing everything that he wants to do. He's still a free man, yet he has abused so many black women, and they are being ignored.