Imagine it's the early 1990s and you spot an audition in the newspaper to be a dancer in Michael Jackson's iconic "Remember the Time" video. So, at a bright-eyed, bushy-tailed 17-years-old, you show up to the audition and nail it. You get the gig. There's nowhere to go but up from there, right? Wrong! Well, wrong-ish.
Jamal Sims was that 17-year-old dancer in Michael Jackson's epic "Remember the Time" video. "That was my first audition and my first job," Sims told The Root, still shocked that he landed the gig. "That kicked off my dancing career at a high."
Sims was soon met with the harsh reality that this is a cut-throat business because at the next audition, he got a big, fat no. But he didn't let that stop him. Sims kept auditioning. "I had the opportunity to dance and sing background for RuPaul in his Vegas show when he first came out with 'Supermodel.'"

It was being cast in this show that offered him the opportunity to work with producers, Randy [Barbato] and Fenton [Bailey], who are my producers on When the Beat Drops, as well as Jordan Finnegan. I've known them since I was 22."
When the Beat Drops is Jamal Sims' newest baby and his directorial debut. It's a film that tells the story of Anthony, a heavy-set, gay black kid with a love of dance, who grew up in Atlanta, Ga. Together with his crew of other gay black men, they've taken a unique style of dancing knows as "bucking" and grown it into a national movement incorporating fierce competitions and becoming a force of education and affirmation.

G/O Media may get a commission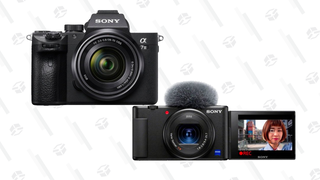 Cyber Monday Deals
Sony Camera Sale
So how did Jamal Sims get here? After starting his career at the top, and landing a few gigs in music videos like Usher's "You Make Me Wanna," Sims considered moving to choreography because as we all know, dancers don't have the longest careers. Sims wanted to make sure that he had a thriving dance career.
Sims eventually made the switch from music videos to film, choreographing the first Step Up movie. From there, Sims' work hit films like 2011's Footloose, Hannah Montana: The Movie, all of the Step Up franchise and more. And now, as a director, Sims digs into his love of dance, to show the world what "bucking" is and why it's important.
"In 1996 or 1997, I was in Atlanta. I had just started going out to gay clubs and I went to Atlanta for pride and I went to this one club called Traxx. I was on the dance floor and I remember these guys coming in, in uniform. They took over the floor," Sims recall of his introduction to bucking.
"They went into battle mode and dance four hours straight. I'd never seen anything like it before. It was a lot of athleticism. It was original and raw. I connected to that."
And since that day in the 90s, Sims told himself that he would return to Atlanta to dig deeper into their gay dance scene, but he'd land a new gig or something would come up that kept him from pursuing it.

"My producer Jordan was like, 'If you could do something else, anything, what would it be?' And I told him, I would go [back to Atlanta] and do this documentary and that's really where when it started."
And so production on When the Beat Drops started. "I knew that I could do it. We started doing interviews and I realized, this is about passion," Sims said. "If you don't have the passion of the drive, you won't last long in this industry, period. To know this community has been striving to survive for 20 years and is still going strong, and people don't really know about it, I was so connected to that."
Jamal tapped into his own biases and realized that even as a double minority (black and gay), he had preconceived notions about the black gay men in the bucking scene in Atlanta.
Sims learned a hefty lesson from making this film. "I remember when I saw these guys dancing in the club and I pre-judged them. I thought they were kids who didn't go to college, living with each other or on the streets and all they care about is dancing and twirling. When I started interviewing them, I found out, most if not all were college-educated, they have their own homes, they're thriving in life."
Jamal learned that the men who practiced bucking in Atlanta were simply paying homage to the black women who helped create the dance in the 1970s. Sims said, "Shirley Middleton, a Jackson State University majorette, we looked her up and all the girls we interviewed would say that the credit goes to Shirley."

Sims says that the men from his film are taking bucking to the next level. "I don't feel like we own it. We can't hold on to things. But as long as we have a correct history lesson, that's important to me."

And you can tell that this story is important to Sims because he took five years to complete it. "For five years, I could have given up when people that were with me on my team said, 'This ain't really nothing or is this really going to be something?' I just couldn't stop."
And we're glad he didn't, or we wouldn't have When the Beat Drops on Logo. If you missed it when it aired on August 9th, aww, we're sorry. There might be a chance that Logo plays it again. You should start praying now.