If you had the ability to read one person's mind, who would you choose? Would it be someone you know, a celebrity, or a historical figure?

Starring Taraji P. Henson, Aldis Hodge, Richard Roundtree, Tracy Morgan and Erykah Badu, What Men Want follows Ali Davis (Henson), a successful agent who feels stilted in the "man's world" of sports representation until a bizarre circumstance provides her the privileged ability to read men's thoughts. It's a modern flip on the 2000 Mel Gibson/Helen Hunt rom-com, What Women Want.

In anticipation of the film's release, I interviewed Henson's co-star and onscreen love interest Aldis Hodge (Will), co-screenwriter Tina Gordon Chism, and mega-producer Will Packer.
Though I conducted individual phone interviews with each member of the trio, they all had one thing in common: raving about Henson's comedic timing and deeming What Men Want her chance to showcase a talent she's always had (she also recently showcased said talent in a hilarious series of drives for Undercover Lyft). At the advance screening I attended, director Adam Shankman said she embodies "if Will Smith and Lucille Ball had a baby." According to Variety, Shankman has also dubbed Henson the love child of Carol Burnett and Will Smith.
Chism, in particular, spoke to writing the screenplay for Henson, who was already on board by the time she was hired to join the script team. So, while Chism wrote with Henson in mind, she wrote not fully knowing how the role would be portrayed.
G/O Media may get a commission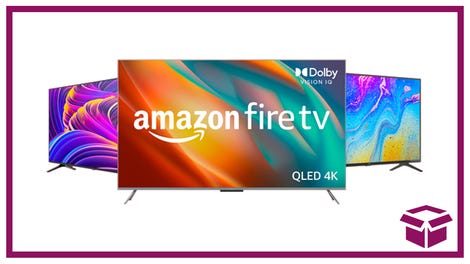 Ooh. stunning.
New Amazon Fire TVs
"[Taraji's] comedic timing, stamina, energy and vulnerability was like a breath of fresh air and elevated everything on the page. So, I tried to write her voice, but she definitely made Ali her own," said Chism.
Along with his velvet voice, Hodge's interview revealed a very endearing part of the actor, particularly in the way he bonded with co-stars Auston Jon Moore (who portrays Will's son, Ben) and Roundtree (who portrays Ali's father, Skip Davis).
In a particularly adorable anecdote, Hodge shared that Moore was too young to realize the importance of continuity and accordingly ate up all of the prop food between takes. With Roundtree, Hodge connected over something of "literary substance," when the veteran actor took interest in a book Hodge routinely carried around set. That book was Destruction of Black Civilization: Great Issues of Race from 4500 B.C. to 2000 A.D. by Chancellor Williams. After engaging in thorough conversations about the book's material, Hodge ended up buying Roundtree his own copy as a wrap gift at the end of the shoot.
Given that the plot of What Men Want involves mind-reading, I asked my interviewees the ultimate question, right in time for Black History Month: "If you were blessed with the opportunity to tap into the mind of any notable figure in black history, who would it be?"
"Martin Luther King would be amazing," noted Packer. "Just to know what level of mental strength and perseverance that he had to have to go through what he went through. Also, to hear what he was really thinking when he had to leave those marches and continue to promote non-violence, I wonder if he was sometimes like 'you know what, I want to punch this motherf— in the head.'"

For Hodge, it was the possibility of entering Malcolm X's mind during two vastly different points in his life—when he was young and when he was a matured revolutionary. Like Packer, Hodge also mentioned Dr. King, but interestingly, also Queen Nzinga of Ndongo and Matamba, who "challenged her brother, father and Portuguese to maintain the freedom of her people."
For Chism, it's (who we hope to be) the future face of the $20 bill.
"Harriet Tubman, for sure. She's a hero. She was fascinating!" exclaimed Chism. "I would want to be in her head to understand the architect of the Underground Railroad and being a spy and everything!"
And since we were on the blackness factor, I asked about the film's blackest moment on set. For Packer, it happened to be the climactic church scene I won't spoil for you here, but hint: Taraji (as Ali) goes off on folks.

Funny thing, the aforementioned scene was originally supposed to be an exterior setup in a park, but the crew had to make a last-minute change to interior due to weather. Given the scene's crass content, Packer had to take it up with Jesus.
"Because I grew up in the South and in a church, I was so nervous about doing this scene," the exuberant producer exclaimed. "I actually had us all come together and pray on set before we shot the scene. I needed to let Jesus know that I did not want no problem, that this was just for the movie and we were just playing, Lord!"
Amen.
What Men Want is now in theaters.