OMG, you guys ... we made it! For Black History Month, The Glow Up committed to one full month of using exclusively black-owned, helmed and founded beauty brands, and we're here to tell you that we're better for it. Not only did we get the satisfaction of supporting black entrepreneurship (large and small alike), we challenged ourselves to break out of our tired "whatever works" routine, and discovered some new brands we now can't do without. (Also, I've never used this much shea butter in my life.)
What did we learn? That we are all over this beauty thing and the breadth of "for us, by us (buy us)" brands we've gotten into this month were astounding, as were the growing number of black beauty marketplaces on the scene. More on those to come—which leads me to another major revelation—the shortest month of the year isn't nearly enough time to cover all the beauty brands who've reached out to us (or hopefully will), so we're segueing Black-Owned Beauty Month into a weekly feature called "Big Beauty Tuesdays," to continue providing a showcase for black-owned beauty brands, drops and reviews (so, black beauty entrepreneurs, get at me)!
On a personal note, another major benefit to testing out new beauty brands all month is it got me out of my "no-makeup-always-in-a-ponytail-because-I-work-from-home" rut. Trying out new products daily—and more important, coming up with new lewks for y'all—was not only fun and informative but became a form of self-care I'd been neglecting. The exercise was a worthwhile reminder that while makeup can seem frivolous and even shallow, it can also reinvigorate creativity and confidence—it certainly did mine.
But I'm sure what you really want to know is what I loved this month. While this list will be growing and changing as I try out new products weekly, I can't let the experience end without shouting out the brands that were game-changers for me in February. So, without further ado, here are my personal faves of Black-Owned Beauty Month.
Skin Care
Best Overall Lifestyle Brand: Alaffia
We've got a few more to try in coming months, but off the bat, I was impressed with Alaffia's product range, which rivals Shea Moisture in their offerings for skin, hair, and even kids. Especially impressive were their Age Defying ($18-$32.50) and Baobab Rooibos Dry Skin ($11.99-$28.99) collections, which replaced the serums and oils I prefer in my skincare regimen with excellent results.
G/O Media may get a commission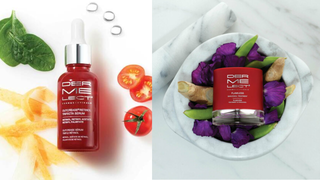 Save $19
Retinol Renewal Kit
Favorite Skincare: Nuekie
This pick is with high hopes because so far, Nuekie only has two products—but from the first trial, I kept picking up those two products again and again. I'm hoping there will soon be more added their chemist-led, ethnic skin-specific collection, but the brand's oil-based Pre-Cleanser ($38) and Moisture Therapy Cream ($55) left my face well-balanced and silky during a very stressful (and drying) time.
Favorite Deodorant: Play Pits
I started the month out frantic for a long-lasting, great-smelling deodorant, and after trying out several options, fell hard for shea butter based, mom-made brand Play Pits ($11). It's kid-inspired, but strong enough for adults—and kept me fresh through an all-day move.
Favorite Butter/Lotion: Scotch Porter's Mineral Enriched Hydro Defense Lotion
I tried a lot of lotions and butters this month (a lot) and somehow kept returning to men's grooming brand Scotch Porter's Mineral Enriched Hydro Defense Body Lotion ($15). Combining the ease of a lotion with the emollience of a butter, this eight-ounce offering may not be the most economical option, but it quickly became a hard habit to break.
Favorite Body Scrub: Tropic Isle Living's Jamaican Hibiscus Island Scrub
Speaking of emollience, Tropic Isle Living's Jamaican Hibiscus Island Scrub ($20.99) was the product I didn't know I was missing in my life, as the sand-like formula dissolved into a long-lasting buttery finish when rinsed ... and smelled heavenly.
Makeup
Favorite Foundation (and Concealer): Danessa Myricks' Vision Cream Cover
If you've been following along, I had trouble foundation-matching during this challenge, as the polar vortex made me paler than usual. Everything I tried was too dark, too pink, too orange, too olive ... Enter black beauty marketplace Marjani Beauty, who consulted with me on my preferred foundation shades tones and textures (a courtesy open to all customers), and sent me a few options through their "Try It and Buy It" program. Of the five shades from two brands that arrived, one was a perfect match—and happened to be from a favorite here at The Glow Up.
Danessa Myricks' Vision Cream Cover ($28) is exactly that: Creamy coverage. Its description touts it as "an all-in-one foundation & concealer created with the latest in texture minimizing technology to model the art of perfect skin." I found that to be true—as well as staying flawless for approximately 16 hours during my move. As Marjani founder Kimberly Smith warned, "a little goes a long way"—with a damp blending sponge and a light hand, I found this to be my instant all-in-one favorite.
Bonus points: It's also available in a pen version. The Vision Cream Cover Perfecting & Shaping Wand ($20) gave me perfect, non-drying concealer and spot coverage—and in a lighter shade is ideal for highlighting.
Favorite Multipurpose Palette: Beauty Bakerie's Coffee and Cocoa Bronzing Palette
Looking for a basic palette that gives options to contour, highlight, blush and bronze—and even give a smokey eye, if needed? Beauty Bakerie's Coffee and Cocoa Bronzing Palette ($38) is the business. Giving four large highly-pigmented, shimmering shades, this is the palette to take traveling, as it has all the components for creating neutral but glamorous looks.
Favorite Eyeshadow Palette: Crayon Case's Matte Book
I can't say it enough: whether you're a novice or expert, it's hard not to love Crayon Case's Matte Book ($25). The 26-color palette gives a full spectrum of matte, highly-pigmented colors—including contour-ready neutrals. Seriously; I could play with it all day.
Favorite Mascara: Pat McGrath Labs' FetishEyes
This was a winner—but partially by default. One of the major deficits in the black-owned beauty game is mascara; few brands make it, and those that do didn't do the job on my short little lashes. So when Pat McGrath Labs dropped FetishEyes ($28) mid-month, I practically ran to Sephora to cop my tube. Her formula is intended to be layerable, building from subtle to spider-like in swipe after swipe. Admittedly, as I reapplied throughout the day, I got more drama, but there were also a few minor clumps (which may be intentional, knowing Ms. McGrath's work). The brush is classic, so don't expect anything revolutionary there, but this is definitely one I'll keep playing with.
Favorite Liquid Eyeliner: Fenty Beauty's Flyliner
The color is "Cuz I'm Black," and boy is it. I am obsessed with the Flyliner liquid eyeliner ($28) from Fenty Beauty. The ergonomically-friendly packaging is both gorgeous and super easy to maneuver, and the color goes on inky and crazy long-lasting—even through sweat and rain.
Favorite Lip Brand: The Lip Bar
Talk about non-drying—I fell hard for The Lip Bar's creamy, enduring lipstick ($12-13) at first swipe, and as I went the day without reapplying, fell even harder. Their glosses ($14) are equally impressive, giving a lightweight, moisturizing finish. Still landing on my ideal shades in the collections, but the textures are on point.
Favorite Matte Lip Color: Fenty's Stunna Lip Paint
While we're on the subject of long-lasting pigments, Fenty's Stunna Lip Paint ($24) is still my favorite for true pigment that lasts all day. While it may have slightly more transfer than other brands, I find it more than pays off in the fact that it's less drying. Their "Uncensored" will likely remain my go-to red, and their deep brown"Unveil," is perfect for those retro moments I love. I'm unfortunately iffy on the new colors released, but the formula remains a winner.
Favorite Lip Balm/Butter: Hue Noir
Here's an entry I didn't think I'd be making—but who can forget a basic like lip balm? Despite the many balms and butters I tried, the first, Hue Noir's Perfect Moisture Lip Butter ($5) was my hands-down favorite for a smooth, super-moisturizing formula with the bonus option of a hint of color.
Favorite Indulgence: Pat McGrath Labs
I mean, if you're going to go there, go there ... and the Mothership will take you all the way. I would never recommend investing in these highly metallic pigments as a beginner, but if you love to play in luxury, treat yo' self to one of Pat McGrath's eyeshadow palettes ($55-$125)—like, yesterday.
Favorite Nail Polish: TBD
Sad fact: Packing and manicures don't mix. So, my trial runs of black-owned nail polish brands will have to wait until I'm all unpacked and ready to look like a lady again. But expect a "Best of" on Big Beauty Tuesday!
Hair
Despite using black-owned products all month long, I'm admittedly still in a deep dive on hair—because there's a lot out there (I actually just received a new package of hair products today). Therefore, it's simply too soon to name favorites, which is why I'm looking forward to giving post-wash day reviews every Big Beauty Tuesday.
But off the bat, a few products really impressed me; first, Shea Moisture's new Make It Last Wash & Go Collection ($11.99-13.99). This collection is intended to extend the life of your wash-and-go, but what I got was simply super-silky locks. Another winner? Aunt Jackie's Fix My Hair Intensive Repair Conditioning Masque ($11.79), which felt like my transitioning hair had a mediation session between its warring factions. And The Mane Choice's Tropical Moringa Sweet Oil & Honey Endless Moisture Sealing Cream ($14.99), also became a return favorite, as it seems to be improving the lasting shine and strength of my hair without a waxy or oily finish.
Glow Up gang, we made it through Black-Owned Beauty Month! But it's really only the beginning, and I hope you'll stay along for the ride, as we dedicate one day a week to identifying the best and the brightest in our black-owned beauty world. Because when it comes to black entrepreneurship, black history has clearly laid the foundation for some major innovators in the field—and there's never been a better time to buy black!
The Glow Up tip: Have a product you want me to try out for Big Beauty Tuesdays? You can send me a note at tips@theroot.com.