The year is 1984, and the ends of your fat laces are freshly tucked inside your suede Pumas. You've just finished asking your father to buy a large piece of linoleum flooring so that you can practice your backspins in the carpeted living room when you hear the sounds of a braggadocious 14-year-old girl destroying an entire crew of rappers come blaring through your boom box.
Prior to this, UTFO had a B side called "Roxanne, Roxanne," in which members of the crew try to court a young lady named Roxanne. What no one suspected was that a teenage girl was timing up for their ass.

Lolita Shanté Gooden took time blasting each one of the emcees—Kangol Kid, Doctor Ice, Educated Rapper and Mix Master Ice—and explaining why each of them was wack:
His name is Kangol, and that is cute
He ain't got money, and he ain't got the loot
And every time that I see him, he's always a-beggin'
And all the other girls that he's always tryin' to leggin'
Every time that he sees me, he says a rhyme
But, see, compared to me it's weak compared to mine
One by one she destroyed each member of the group and birthed a movement of battle rap surrounding one song. Seriously, this song had, like, 100 versions of rappers just answering one side of the argument. It was the $200-date Twitter debate on wax.
Well, behind every 1980s success is the story of a New York City tenement, a mom who's overworked and a struggle to get out. Now Gooden is ready to tell hers.
G/O Media may get a commission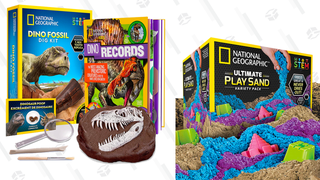 Up to 33% off
National Geographic Science and Activity Kits
After Gooden's biopic Roxanne, Roxanne premiered at Sundance as a darling of the critics, Netflix jumped on the chance to debut the flick, starring Oscar winner Mahershala Ali, Nia Long and, as Gooden, Chanté Adams. Expect this movie, set to debut March 23, to have you searching the back of your closet to break out your Adidas tracksuit and Kangol.
Check out the trailer: