For those of you who may be too young to know this, before Ice-T was a big star on Law & Order: Special Victims Unit, he was one of the greatest Los Angeles gangsta rappers of all time. In fact, he was doing gangsta rap before N.W.A even existed. In fact, when you have time, go Google the photos from the cover of his album Power. Once upon a time, Ice-T had a wife who was badder than Coco, and the photographic proof is that album cover, but I digress …
In his gangsta rap days, Ice T had a song called "Bitches 2." In it, he describes all these different types of men who embody the definition of being a bitch. One of the men he describes is a man who always got his ass kicked when he was younger and just couldn't win. That guy grew up, joined the police force, got a badge and started harassing people just because he could. It was like payback for all the years he got his ass kicked.
I bring up that verse because if there was ever a cop who embodied it in every way possible, it is the officer wearing Badge No. 5203 with the Los Angeles Police Department.
A bystander by the name of Brock Bryan recorded 10 ½ minutes of video during an incident that took place on a train at the Westlake/MacArthur Park Metro station in L..A. late Monday afternoon.
Bethany Renee Nava, 18, was minding her own business and riding the train on her way to the DMV to get a new ID so she could start her new job. According to KTLA-TV, police say that Nava was being loud and boisterous when she was confronted and asked by the police officer to get off the train.
G/O Media may get a commission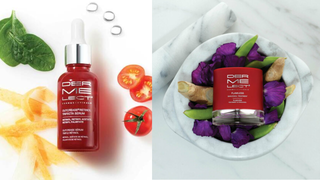 Save $19
Retinol Renewal Kit
The video, as well as witnesses who can be heard throughout, tells a different story.
Apparently Nava was sitting on the train with her feet up in her seat. Not the seat next to her. Not the seat in front of her. She was sitting with her foot on her own seat.
The officer, who has sergeant stripes on his uniform, confronts Nava and tells her she can't sit with her feet on the seat. When she doesn't take her feet down, he tells her that she is going to have to get off the train.
"I already told you what to do, and you disobeyed me. You're getting off the train," he says before grabbing her to forcibly remove her from the train.
Bryan, who is recording the incident, immediately expresses concern about the way the officer is manhandling the teen and pleads with him not to arrest her.
Bryan and several other bystanders follow Nava and the officer off the train, berating him for what he is doing. Bryan tells the officer that he is abusing his power, and another woman—identified as 22-year-old Selina Lechuga—calls him a scumbag.
All of this seems to make Badge No. 5203 uncomfortable, because he gets on his radio and calls for backup.
Lechuga accuses him of being high off power in the moment, which is obvious. She continues to taunt him until a group of officers arrive off a second train. Badge No. 5203 instructs them to take both Nava and Lechuga into custody. The officers do as instructed without even asking or assessing what is going on.
Both women are handcuffed, and before she is taken away, Lechuga calls out the blatant racism that is at hand, then turns and spits on Badge No. 5203. She was reportedly arrested on suspicion of battery on a police officer.
Now, it is against the rules to have your feet on the seat while riding a Metro train or bus, but did that tiny infraction warrant all of this?
Badge No. 5203 clearly was looking for someone to bother. We knew it would be trouble when the LAPD got the contract to police the Metro system in Los Angeles.
The over-policing of black and brown people in Los Angeles is already a thing. Ticketing people on Metro is an easy way to introduce them into the criminal-justice system—the same criminal-justice system that functions as a government fundraiser.
After the LAPD received complaints about the incident, it said that there is a use-of-force investigation underway.
Metro CEO Phil Washington said in a statement Wednesday:
I am extremely disappointed. Our riders deserve better. We want the Metro system to be a safe environment for everyone. I expect more from our law enforcement partners. This incident is still under investigation, but I want to be clear: this is not the kind of policing I want on our system.
Then, as StreetsBlogLA reports, he issued a second statement that includes one of those "Let's get all the facts" things they throw in so that people don't start looking at police as the assholes we all know they can be:
As Metro continues to work with our partners at the Los Angeles Police Department on the investigation of a young woman being forcibly removed from a Metro subway train yesterday, I want to be clear about my position: We want our Customer Code of Conduct rules enforced, but I'm disappointed at the way the situation escalated.

As a 24-year retired U.S. Army veteran, I understand and respect our police officers and their day-to-day duty in working to keep our system safe and secure. They encounter hundreds of conduct issues each day, and some of them are faced with very difficult situations. But my hope is that we work to de-escalate situations as much as possible.

The investigation is underway to gather all the facts, and until we have the complete story, we must not rush to judgement. Meanwhile, we remain committed to enhancing safety and the overall rider experience for all of our customers, and look to our patrons to be our partners in that.
Those young ladies weren't a threat to anything other than Badge No. 5203's fragile little ego, and this is another problem with police officers. They escalate things when their egos take a hit.
I hope Nava and Lechuga beat whatever they get charged with.