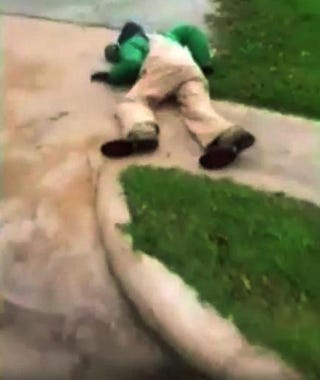 The Department of Justice on Friday released a video of a "knockout game" attack against an elderly black man by a white man in a hate crime that resulted in the 29-year-old receiving a six-year federal prison sentence, according to CNN.
Last month Conrad Alvin Barrett, 29, of Katy, Texas, was sentenced to six years in jail after pleading guilty to attacking Roy Coleman, 81, in November 2013. Coleman suffered two jaw fractures and was hospitalized for several days after the incident, the report says.

On Friday, officials released Barrett's video showing him narrating and then attacking Coleman.
"The plan is to see if I were to hit a black person, would this be nationally televised?" he says in the video. Barrett then says he's "completely unable" to hit defenseless people, but then he stops his car, approaches Coleman and hits him so hard that the elderly man falls to the ground.

"When I first saw the video, I was devastated … It broke my heart to see someone hit my father," Donna McNeal, Colman's daughter, told CNN affiliate KPRC.
Watch the video here: