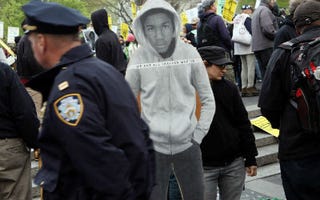 Join The Root as we stream WGBH-TV's Basic Black program, which will explore various themes and issues that have come to light in the aftermath of the Trayvon Martin and Tulsa, Okla., shooting tragedies.
Panelists will discuss the continued reactions to the shooting death of Trayvon Martin, as well as the contrasting commentary between liberal and conservative outlets in the wake of the tragedy. The conversation will also address the ongoing issue of "black-on-black crime" and how protests highlighting the problem continue to be ignored.
The Root and others will participate via live chat, which you can join using the module below. Use it to comment and ask questions during and after the discussion.
To see the televised broadcast, log on to worldcompass.org for your local listing.
Check out the live chat and live webcast below at 7:30 p.m. EDT on Fri., April 13, or at basicblack.org.
Like The Root on Facebook. Follow us on Twitter.