Editor's note: A previous version of this article quoted Tony Hollis and identified him as president of the Mississippi County chapter of the NAACP. Since the story was first reported, WREG has posted an update indicating that "Tony Hollis told WREG he was the president of the Mississippi County Chapter of the NAACP. The chapter says Hollis is the former president and has been directed by the national NAACP to cease and desist representing himself as being involved with the organization." WREG also says that it has been told that "the Mississippi County Chapter of the NAACP supports the actions of the officers."
An Arkansas man is comparing himself to Michael Brown and Trayvon Martin after he says he was unjustly targeted while in the parking lot of a Lucky's Store when police responded to complaints of loud music, WREG reports. 
"I see another Mike Brown and Trayvon Martin situation, if you ask me," Patrick Newbern Jr. said of his Easter Sunday arrest. 
Footage of the incident, which was recorded on Blytheville, Ark., police body cams and obtained by the news station, shows an officer approach Newbern and ask for his identification. Newbern can be heard saying that he doesn't have it, and the officer tells him not to go anywhere and begins to write a citation. Newbern starts to drive off but stops before leaving the parking lot. 
One officer can be heard at one point saying, "Get his ass out of the car." 
Police accuse Newbern of refusing to get out of the car when ordered to do so. But Newbern says that he didn't get a chance to because he still had on his seat belt when officers attempted to yank him out of the vehicle. 
G/O Media may get a commission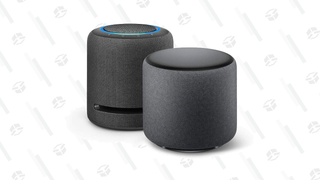 25% off - Prime Exclusive
Echo Studio + Echo Sub Bundle
"When you ask me to get out the car, you open up the door snatching me out the car without letting me get out my seat belt," Newbern said. "How can I get out the car in my seat belt?"
Newbern had a Taser used on him twice and was sprayed with a chemical agent after authorities said he resisted detainment. Authorities also accused him of grabbing for their weapons and trying to hit one of them. 
As Newbern was sprayed with the chemical agent, he could be heard on the video screaming, "I can't see." During the struggle, he can be heard repeatedly stating, "I ain't resisting, bro!"
A crowd that quickly circled the confrontation can also be heard repeating Newbern's plea.
Newbern was charged with violating the city noise ordinance, fleeing by vehicle and resisting arrest.
Watch video of the arrest below (NSFW).
Read more at WREG.