When was the first time you realized your black mama was a superhero?
I think this became more apparent for me in hindsight (particularly, in adulthood, when I could fully appreciate how badass she is) when I mused over the way she was able to hold shit down even when it seemed bleak—and I mean bleak. Like, "almost lose the house as a single mother" bleak. But here we are, 30-plus years later and my childhood home is still warmed up and ready when I fly back to Chicago. Miracles do happen, and that miracle happens to be my mama.
Cue this dope-ass movie.
Directed by Julia Hart (Miss Stevens) Fast Color follows Ruth (Gugu Mbatha-Raw), who escapes to a remote farmland in what appears to be a post-apocalyptic setting after her superhuman abilities are discovered. Hart co-wrote the script with her husband, Jordan Horowitz (La La Land). The film premiered at the SXSW Film Festival in 2018.
"My husband and I came up with the idea for the movie when we became parents," Hart told Entertainment Weekly. "I just felt this superhuman strength that I had never felt before when I became a mother. So, the idea for the movie came from this notion that mothers are superheroes. I realized that I'd never seen a movie where there was actually a superhero who was a mother. That was the origin of it, about these three generations of women—a grandmother, a mother, and a daughter—using their relationship with each other to understand, and accept, and use their powers."
G/O Media may get a commission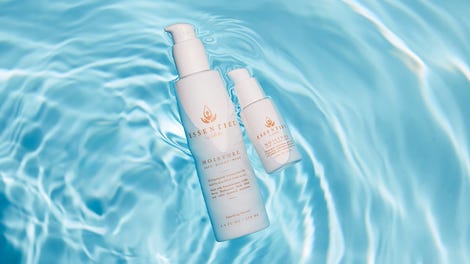 20% off
Essentiel by Adele
As for leading lady Mbatha-Raw, it was her visceral performance in Beyond the Lights that attracted Hart. Essentially, the 2014 film's primary character was what Hart was looking for in her Ruth.
"What was interesting about that was, what started out as a story about female power and the power of mothers, ultimately became about the power of women of color, which, as a white woman, was something much bigger than me and my understanding of the world," the director added. "Having such incredible actresses like Gugu, and then Lorraine Toussaint who played her mother, and Saniyya Sidney who plays her daughter, who are also women of color, was a pretty incredible experience. It was such a privilege to watch the story become something bigger than me and my experience of being a woman."
In the trailer, Ruth is reunited with her own mother Bo (the legendary Toussaint) and daughter Lila, the latter of which also has powers slightly different from Ruth. She can "see color" in a way unheard of to mere mortals. Take that, colorblind propaganda!
Of course, the trio comes across a white man who can't mind his fucking business as he desires to "run tests" on Ruth, and likely her daughter, too. Ruth ain't having that shit, though. Not on her watch.
You can't outdo black mamas.
Fast Color releases March 29.