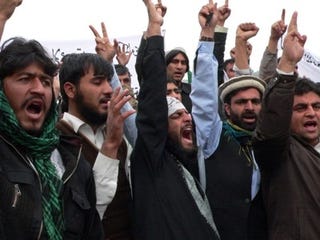 The U.S. soldier who is accused of killing 16 Afghan civilians, nine of them children, was reportedly drunk at the time of the ambush, according to the New York Times. Drinking alcohol is a violation of military combat rules. He was also suffering from stress related to his fourth combat tour and issues with his wife regarding his deployment.
"When it all comes out, it will be a combination of stress, alcohol and domestic issues — he just snapped," said a senior American official to the New York Times.
The soldier, who remains unnamed, is 38 years old and enlisted in the Army in 2001. It was his first deployment to Afghanistan. His lawyer, John Henry Browne, said the soldier felt compelled to join the Army after the 9/11 attacks. "He felt it was his duty to stand up for the United States," said Browne.
Browne also said that the sergeant suffered a concussion during a vehicle-rollover accident caused by a roadside bomb and lost part of a foot in another episode. Browne also mentioned that the day before the shootings, he'd witnessed a fellow GI's leg being blowing off, according to the Daily News.
The sergeant is scheduled to be flown to the U.S. as early as Friday — most likely to a prison in Kansas, where he will be detained for an undisclosed amount of time. He had been flown to a U.S. base in Kuwait, but the Kuwaitis "blew a gasket," said the official, when they found out.
Read more at the New York Times.
Like The Root on Facebook. Follow us on Twitter.