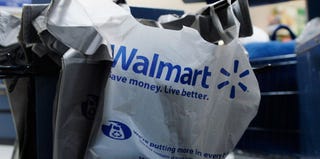 American shoppers spend about 18 percent of all food stamp dollars at Walmart, one of the nation's most profitable companies, the Huffington Post reports.
That adds up to an estimated $14 billion of the $80 billion Congress set aside for food stamps last year, the site says. The company's total profits for 2013 were $17 billion.
The estimates come as 47 million Americans are slated to lose their food stamp benefits as funding for the program expires. Indeed, the former recipients are likely to become even more dependent on the low-cost retailer.
"I would say we're cautious but modestly optimistic," Bill Simon, Walmart's U.S. CEO, said at an analyst meeting earlier this month, according to the Huffington Post. "When the [food-stamp] benefits expanded, our market share actually went down."
The chain has traditionally lobbied around food stamps, according to a report from Eat Drink Politics, an advocacy group. Additionally, Walmart worked with Michelle Obama in 2011 on the Great American Family Dinner Challenge, a drive to encourage families to eat healthy on a food-stamp budget.
Read more at the Huffington Post.