We're a quarter of the way through the NFL season and it's time for the snark to start circling. Aside from jokes about wide receivers who run their mouths better than their routes (yes, we're talking about you Braylon Edwards late of the Cleveland Browns, now of the New York Jets. I bet no one in northern Ohio needed to the extra clue), the slow start of several presumed contenders has folks wondering who will be the first head coach to be shown the door this season.
Some of the league's top underachievers are simply bad teams starting a long, make that a veeeerrry long, rebuilding process; they include the Tampa Bay Buccaneers and Kansas City Chiefs. The Tennessee Titans are winless, having started the season with a brutal schedule but after 16 seasons, Coach Jeff Fisher has the NFL equivalent of tenure. He's rebuilt this team before and will likely get two or three more chances to do it again.
Not so with the Carolina Panthers, whose head coach, eight-year vet John Fox, is a logical choice for an early exit. The Panthers are playing lifeless football and have tough schedule ahead. Injuries on the defensive line will only compound their problems.
But some traditions die hard, and so the biggest question mark has to be in Dallas. Cowboys coach Wade Phillips has been on the hot seat since the day he was hired. Even going 13-3 in his first year did little to stifle speculation that he was on shaky ground. Now, after a 9-7 season last year and a slow start this year, he may be the smart-money choice on which head coach gets to update his resume first.
Two wins and two losses do not usually constitute a slow start, but the Cowboys were favored in their two losses and, remember, the team is owned by the petulant and impatient Jerry Jones. Consider, also, that that Phillips' likely replacement, offensive coordinator Jason Garrett is already on the Cowboys sidelines, which would make the transition easier and smoother than usual.
G/O Media may get a commission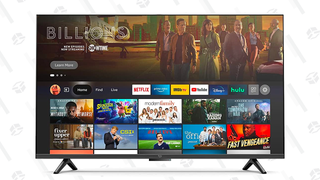 22% off
Amazon Fire TV - 50" Omni Series 4K - Early Access Deal
The Cowboys also have problems which their two wins may hide. Simply put, none of their wide receivers can catch the ball. In their 17-10 win over the Cowboys on Sunday the Denver Broncos showed eight-man fronts in the second half on Sunday, daring quarterback Tony Romo and number one wide out Roy Williams to beat them.
The passing game ground to a halt and with running back Marion Barber throttled by the Denver defense, the Cowboys went scoreless after halftime. Williams "catch rate" is an awful 44 percent. The other wide-outs, Patrick Crayton (46%) and Miles Austin (42%) are just as bad. This doesn't mean the Cowboys miss Terrell Owens, though. He's even worse at 40% with his new team in Buffalo.
Maybe when Tony Romo was signaling "three" at the end of the game on last Sunday, he meant he has three wide receivers and none of them could catch a forward pass. The Broncos didn't just beat the Cowboys on Sunday, they wrote a book on how to do it.
Defensively, the Cowboys are also off their game. Last years DeMarcus Ware might have deserved the MVP; he had 20 sacks and caused chaos behind the line of scrimmage on almost every play. This year he has no sacks and is the butt end of jokes about being in the witness protection program. Again the situation is intractable. The Cowboys let defensive lineman Chris Canty go in free agency (he is helping solidify the New York Giants front seven as one of the league's elite). Last season, Canty was a good enough pass rusher that teams had to put a tackle on him which left Ware to work one-on-one against a back or tight end—not a fair fight. With Canty in a different shade of blue, opposing teams now feel free to split their tackles outside against Ware and keep their QB's upright
Dallas is 2-2 going into today's matchup against the lowly Kansas City Chiefs; they are probably en route to 3-2, but after that things don't look good. After their bye week next week, the Cowboys face five tough games. Phillips might be gone by the Thanksgiving Day game against the Oakland Raiders.
Of course, it's not Phillips who is the big problem in Big D. Jones approved a mid-season swap last year to obtain Williams for three draft picks, including a first rounder and a third rounder. Jones let Canty walk away from the team when he was a key to the defense. But Jones won't fire Jones (even if hordes of Cowboys fans dearly wish he would); so he'll fire Phillips instead.
Martin Johnson is a New York writer and regular contributor to The Root.
Martin Johnson writes about music for the Wall Street Journal, basketball for Slate and beer for Eater, and he blogs at both the Joy of Cheese and Rotations. Follow him on Twitter.