Video footage is turning out to be a real help for African Americans in this country, whose word is rarely taken as truth. And so it goes for tennis star Venus Williams, who, after enduring public shame and sadness over a car accident that ended a man's life, appears not to have been at fault.
Justice Smith Talks New Dungeons & Dragons Movie, The Get Down On That's So Random
Palm Beach Gardens, Fla., police now say that Williams "lawfully entered the intersection" before the fatal car crash that eventually killed Jerome Barson last month. Williams was originally determined to be at fault in the accident.

According to USA Today, authorities now cite "new evidence" (i.e., video surveillance footage) that show that Williams' Toyota Sequoia had entered the intersection legally before the June 9 collision that critically injured Barson and left driver Linda Barson with multiple injuries.
G/O Media may get a commission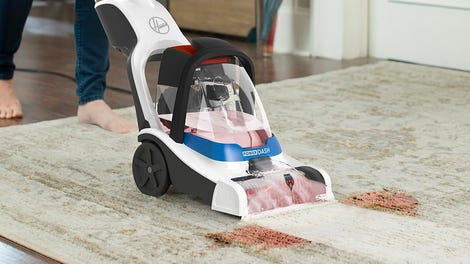 26% Off
Hoover PowerDash Pet Compact Carpet Cleaner
USA Today reports:
"Based on the evidence obtained in the ongoing investigation, it has been determined the vehicle driven by Venus Williams lawfully entered the intersection on a circular green traffic signal, and attempted to travel north through the intersection to Ballenisles Drive," the police said in a statement. "As Williams was traveling through the intersection, a Nissan Altima entered the intersection traveling south, and made a left turn in front of Williams' vehicle, causing her to stop advancing through the intersection to avoid a collision.

"The traffic signal then cycled to green, at which time Barson continued westbound and entered the intersection. The front end of Barson's vehicle collided the right front of Williams' vehicle."
After his death, Barson's estate filed an auto negligence lawsuit, seeking a jury trial and unspecified monetary damages.
Williams' lawyer, Malcolm Cunningham, who had earlier noted that his client was driving through the intersection at 5 mph, released a statement on the new evidence, USA Today reports:
"The update from the Palm Beach Gardens Police Department and video released today show that Venus lawfully entered the intersection on a green light and was impeded in her progress through the intersection," said Cunningham. "As the Palm Beach Gardens Police Department points out, once Ms. Williams entered the intersection lawfully, she had the right to proceed through the intersection and other vehicles including those with a red light changing to green, were obligated to yield the right-of-way to Ms. Williams.
He continued: "Ms. Williams is grateful for the continued diligence and efforts of the Palm Beach Gardens Police Department in its investigation. At the same time, as this process moves forward, she remains deeply saddened by the loss suffered by the Barson family and continues to keep them in her thoughts and prayers."

Williams, who is competing at Wimbledon this week, broke down in tears in a post-match press conference Monday when asked about the accident.
Read more at USA Today.