A waitress in Ashburn, Va., says that a couple she provided service to Saturday left a racist note instead of a tip on their bill before leaving.
Kelly Carter, a waitress at Anita's New Mexico Style Cafe in Ashburn, told WJLA that she was shocked to see the note on the bill after the couple ate on Saturday morning.
The 20-something white man and woman wrote "Great service don't tip black people" at the bottom of the bill after paying by credit card.
Anita's owner, Tommy Tellez Sr., told WJLA: "I'm appalled. This is so disheartening."
Tellez also told WJLA that Carter is a loyal employee and beloved by her customers.
G/O Media may get a commission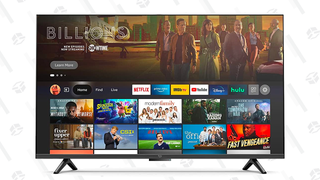 22% off
Amazon Fire TV - 50" Omni Series 4K - Early Access Deal
"She has a following," Tellez said. "Her philosophy for customer service is way beyond the norm, and we're really happy to have her."
Carter told WJLA that the couple were like any other customers; they acted no differently and gave no indication that they were unhappy with her for any reason. She said the woman even complimented the food.
"The lady was saying they loved the pot pie meal," Carter said.
It was two of Carter's regular customers who posted the bill on Facebook. They noticed her reaction to the message and were outraged by the incident. According to WJLA, the Facebook post had been shared nearly 900 times by Sunday night.
The local NAACP is also spreading word of the incident.
Carter's loyal customers have been offering her support. The restaurant manager said that many have come in to eat and have requested her as their server, leaving generous tips. Others have simply stopped by to give her hugs and offer her money.
"People were just coming in dropping cash off," Tommy Tellez Jr. said.
Carter told WJLA that she thinks she recognized the male customer from a recent pickup order at the restaurant. She is not letting the incident discourage her and showed up for her shift as scheduled at 6 a.m. Sunday.
"The customer didn't hurt me. He only hurt himself. He only makes me stronger," Carter said.
She added that if the couple were to show up in the restaurant again, she would still serve them.
"Just me serving them will let them know they did not get the best of me. And I truly mean that," Carter said.
Read more at WJLA.