It's been a whirlwind these past few months for the University of Southern California's Trojans football co-captain and cornerback Josh Shaw.
In August, he was lauded as a hero after a story broke that he jumped from a second-floor balcony to save his nephew who was drowning in a pool, spraining both his ankles.
However it turns out that his story was just that, a story. Shaw eventually confessed to making the entire thing up and was indefinitely suspended.
Now, Shaw is trying to set the record straight, explaining to Los Angeles Times' Bill Paschke why he lied the way he did and what happened that August night when he injured himself.
"I want people to know the truth of who I am," he told the Times
The truth, according to Shaw, is that he got into an argument with his longtime girlfriend, Angela Chilton, with whom he still lives. In the middle of the argument, Chilton reportedly ran out of their apartment and disappeared.
G/O Media may get a commission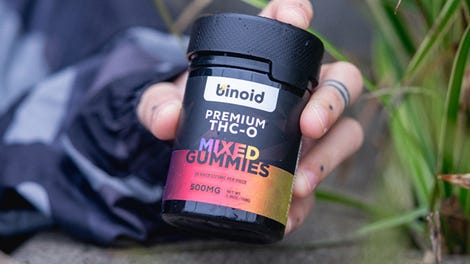 25% Off + Free Shipping
Binoid THC-O Gummies
He stayed in the apartment until he began to hear noise below the balcony. When he looked out, he saw cops and panicked—especially given the stereotypes attached to black men.
"We were not on good terms when she left, I thought she had somebody call authorities. I was thinking the worst," Shaw admitted to the Times. "If she did say anything, I'm a black man with dreadlocks, and with everything going on in the country at the time, all that stuff in St. Louis [Ferguson, Mo.] … in my mind, I'm going to leap from the balcony so authorities did not see me."
And so he jumped, injuring both his ankles gravely.
"I was in excruciating pain," he said. "But I thought, 'How do I explain to my coaches that, as a senior captain, I just shattered both of my legs?'"
And that's how the whole heroic tall tale came to fruition, to offer a good reason to his coaches about why he'd have to sit out for some of the season.
"I wanted to come up with something that they would say, 'Josh, if you got hurt, that's a good reason to get hurt,'" Shaw said. "That's where fabrication came in."
However, what Shaw didn't foresee was that his ankles weren't broken or shattered, but just sprained. He told the Times that if he had known they were just sprained at the time, he would not have tried to cover up the incident to the extent that he did.
Another thing he didn't account for was that his tale of heroism would go viral.
"I never wanted this deal to go viral at all, it was not my intention at all. I thought coaches would say, 'OK,' and we'd just deal with it," he said.
It's now been about three months since the incident, and football coach Steve Sarkisian has since deemed his punishment complete, welcoming him back to the team in September. However, he still has not played in any games.
However, Shaw takes the days in stride, grateful for another chance and coming out having learned a valuable lesson.
"I thought I could find an easy way out of something, but that doesn't work— I have made a mistake, and I have paid for it," he told the Times. "And whether I do play or don't play again, I'll be forever grateful for USC for giving me a chance."
Read more at the Los Angeles Times.