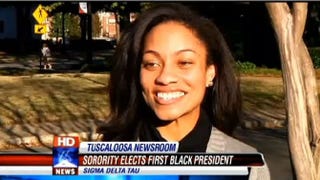 In the aftermath of allegations of racial discrimination within the Greek system at the University of Alabama, the Huffington Post reports that one of the school's major white sororities has elected a black president for the first time in history.
Hannah Patterson, 22, an engineering student who joined Sigma Delta Tau a year ago, was elected president of the historically Jewish sorority, according to the Huffington Post, which cites a report at WBRC-TV.
"We're welcoming of any girl that wants to join our chapter and best fits our chapter," Regina Broda, who was president before Patterson, explained to the campus paper, the Crimson White, the site says.
In the spring of 2011, the Huffington Post reports that Delta Tau accepted its first black member and has initiated three other African Americans since then. Patterson was recruited to the organization through informal recruitment, reports show, after she was unable to find a fit during formal recruitment.
Patterson reportedly says she is honored to take the position but insists race was never a factor in the process for her.
"I never saw color or race or ethnicity. It's never been in the front of my mind," said Patterson, according to the Huffington Post. "I tried to never let it hinder anything I did or judge people on that. I guess I never really thought about, 'Oh, I'm the first African American that has been president.' I'm just excited for my term and to see where my chapter has gone and where it is going to go."
A firestorm of controversy erupted in September after the Crimson White exposed systematic segregation and racial discrimination within the school's Panhellenic Greek system. The story accused the sororities of racism after a candidate with high grades, who was also the daughter of a state senator and granddaughter of a trustee, was not recruited by any of the 16 sororities. Since then the university has instituted changes to help the sorority-recruitment process appear more equitable.
Read more at the Huffington Post.