No, she hasn't given a release date on that new album; yes, she still gets nervous going to award shows; and the first thing she does every morning is pray, with the help of a daily devotional. But if you even casually hang out on social media, all of that was likely eclipsed yesterday by Rihanna showing up on the 'gram looking like this for Interview magazine's summer issue.
Yeah, that happened. But once we all stopped staring (OK, we never really stopped), there were actually some words to go along with that imagery, as Rih reunited with friend and Ocean's 8 co-star Sarah Paulson to get even more revealing ... kind of.
You see, Rihanna is shy.
"I'm so shy," she says, "I don't even want you to know I'm shy."
In fact, she says, "I still get nervous going to award shows."
"There's nothing worse," fellow red carpet regular Paulson agrees.
"What is that?" Rihanna asks. "I always feel like everybody's looking at me."
G/O Media may get a commission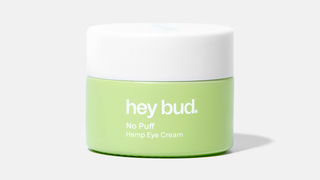 15% off
Hey Bud - No Puff Hemp Eye Cream
Well, they are—and it's helped make Rihanna the wealthiest female musician alive, eclipsing Madonna and Beyoncé in earnings from her now multifaceted empire.
"With every business outlet, I'm making something from a vision to a reality, and that's the thing I really enjoy. Music had led me to these other outlets, and to things that I genuinely love," she says of her "can't stop, won't stop" work ethic, in which she admits to grabbing "sleep pockets." But like all so-called "superwomen," Rihanna has learned that the most power comes from ample personal time, telling Paulson:
It's only the last couple years that I started to realize that you need to make time for yourself, because your mental health depends on it. If you're not happy, you're not going to be happy even doing things that you love doing. It'd feel like a chore. I never want work to feel like a chore. My career is my purpose, and it should never feel like anything other than a happy place. I've made little things a big deal, like going for a walk or going to the grocery store. I got into a new relationship, and it matters to me. It was like, "I need to make time for this." Just like I nurture my businesses, I need to nurture this as well. I'll shut things down for two days, three days at a time. On my calendar we now have the infamous "P," which means personal days. This is a new thing.

It's the reason why an album isn't being spat out like it used to, I used to be in the studio, only the studio, for three months straight, and an album would come out. Now, it's like a carousel. I do fashion one day, lingerie the next, beauty the next, then music the next. It's like having a bunch of kids and you need to take care of them all. ... I'm really happy with a lot of the material we have so far, but I am not going to put it out until it's complete.
But on the subject of kids: as evidenced by her many proud "aunty" posts with now 5-year-old niece Majesty, Rih loves the babies. Asked by Paulson whether she wants to be a mother, she responds "more than anything in life." That said, she's decidedly (and understandably) coyer when speaking about her boyfriend of two years.
Paulson: Who are you dating?
Rihanna: Google it. [In case you haven't, he's billionaire businessman Hassan Jameel.]
Paulson: Are you in love?
Rihanna: Of course I am.
Paulson: Are you going to get married?
[Pause]
Paulson: She's silent!
Rihanna: Only god knows that, girl. We plan and god laughs, right?
But who's really laughing at Rihanna, who currently seems to turn whatever she touches to gold—no, platinum? Having disrupted both the beauty and fashion games in addition to dominating the music industry, the seemingly impervious superstar hasn't the time to entertain trolls—and in true bad gal shy gal fashion, knows how to put her detractors in their proper place.
"There's that idea of being a child behind a screen and having that feeling like you can say anything. That child is who I imagine behind a comment every time I see one. They would never say that to my face. They probably wouldn't even say hello."

The Glow Up tip: The summer issue of Interview magazine, starring Rihanna, is on stands today, June 11.