Upon releasing his debut movie, Get Out, Jordan Peele made it clear he wanted to stay within the horror genre. As we all know, the film, which Peele classified as a "social thriller," quickly broke the bank, becoming the most profitable movie of 2017 and a pop-culture phenomenon.

Now we have the first whiffs of his feature-film follow-up, called Us.
The director shared an image of the film's poster on his Twitter account Tuesday, along with its slated release date of March 2019. The poster, which shows two disembodied black heads against a white-and-gray relief, also includes the tagline, "A new nightmare from the mind of Academy Award winner Jordan Peele."
Early reports say that Lupita Nyong'o, Winston Duke and Elisabeth Moss are all in discussions to play leads in the film.
G/O Media may get a commission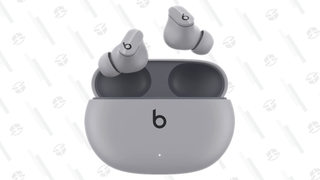 While details about the upcoming flick are being kept under wraps, according to the Hollywood Reporter, the movie will center on two couples, one white and one black. According to THR, Nyong'o is rumored to be in negotiations for the lead role. Duke's and Moss' deals are in earlier stages.
Should Duke and Nyong'o land roles in the film, they would play one couple; Moss will play half of the other pairing.
During an interview on Variety's Playback Podcast last year (h/t Collider), Peele said that while developing Get Out, he was "simultaneously developing four other projects" he dubbed social thrillers:

Each one is meant to deal with a different human demon; a different monster that sort of lurks underneath the way that we interact with one another as human beings. So I hope to soon direct another one of these social thrillers—it's not gonna be about race, it'll be about something else, but it's gonna be very cinematic and fun … To come up with the perfect monster for a horror movie we really need to look no further than the monster that is all of us. Not so much an individual psycho killer, but the humanity that gets lost between us.
Movie fans and critics are already speculating as to what "demon" Us could bring to the fore, with Collider wondering if misogyny could be the next topic that gets the Get Out treatment. Other possibilities include infidelity or a broader view of the challenges of monogamy.
Either way, we're keeping a hand on our keys, thanks.