Good mothers nurture us, protect us and inspire us, and if you were blessed to grow up with a great mother figure (or several) in your life, hopefully, you were paying serious tribute this past Sunday for Mother's Day.
You weren't alone; from the Duchess of Sussex to Diana Ross, motherhood was also on the minds of many of the world's most famous women. Social media was flooded with memories, messages and memorials to the women who made them who they are, and the children who taught them the magic of motherhood. And because we think Mother's Day should be an everyday affair, we've rounded up several of our favorites to share.
Meghan, Duchess of Sussex
May 2019 is a month of firsts for the woman formerly known as Meghan Markle; her first wedding anniversary is on May 17; her first child, Archie, was born on May 6; and on Sunday, the Duchess of Sussex celebrated her first Mother's Day. The occasion was commemorated with a sweet photo on the Sussex Royal Instagram page, showing the duchess's hand cupping Archie's tiny feet with a bed of forget-me-nots in the background (the favorite flower of Princess Diana, as noted by HuffPo). The caption not only paid tribute to mothers around the world but included an excerpt from black poet Nayyirah Waheed's "Lands."
Serena Williams
Mother's Day 2019 was a different sort of remembrance for Meghan's good friend, tennis phenom Serena Williams, who brought husband Alexis Ohanian and daughter Alexis Olympia to Rome for the Italian Open. Ohanian commemorated the holiday—which happened to fall on the fourth anniversary of his first meeting Serena in the Italian city, with an adorable photo of Olympia "feeding" a stone lion.
G/O Media may get a commission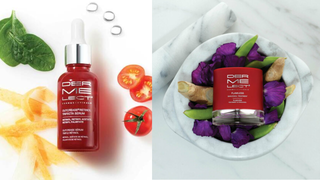 Save $19
Retinol Renewal Kit
Gabrielle Union (& Dwyane Wade)
Of course, not all journeys to motherhood are linear; Gabrielle Union struggled with infertility for years while trying to conceive with husband Dwyane Wade and being a devoted stepmom to his two sons and nephew. Late last year, Union's prayers for a child with Wade were answered with the arrival of Kaavia James via surrogate. On Sunday, Union shared a photo from the first miraculous moments of Kaavia's life, with a reminder that "miracles do happen ... you can't age out of joy."
Indya Moore
Pose star Indya Moore also shared a poignant birth photo, recounting the difficult first moments of their own birth, and drawing powerful correlations between their mother's protection in those initial moments and during the difficult transition into womanhood. Moore reminds us that we collectively have a long way to go, but transformation—of relationships, society and even black maternal and infant mortality—is worth the struggle.
Rihanna
The megastar known as "Bad Gal RiRi" got biblical on Mother's Day (hey, it was Sunday), quoting Proverbs to pay tribute to mom Monica, and to remind us that the mothers in our lives are every bit as worthy of the unconditional love they give, and respect for their selflessness. That's what we call a Sunday sermon.
Ciara
In addition to Mother's Day, this weekend Ciara celebrated the release of her latest album and first release on her new imprint, Beauty Marks. Following a beautiful message from her family as she appeared on The View last week, on Sunday, it was all mother love as she recounted the lessons learned from being mother to Future Zahir and Sienna Princess (who shares her mother's middle name).
Tracee Ellis Ross & Diana Ross
This famous mother-daughter duo (Tracee is the second of Ross's five children) is well known for public declarations of love, and Spring 2019 has already been a season of celebration, as the icon turned 75 in March. But both mother and daughter shared sweet tributes to their family bond on Sunday, with Tracee posting a series of flashback photos to the 'gram, and "The Boss," Ms. Ross showing off her brood at her recent Diamond birthday celebration in Los Angeles.
Cardi B
It's been such a whirlwind year for Cardi B, it's easy to forget that this was her first Mother's Day—daughter Kulture was born last July. Husband Offset marked the occasion in typically over-the-top style, which included surprising his wife with a room full of roses, a decadent, seafood-laden brunch and two new Birkin bags. But our favorite part? Watching Cardi interrupt her gushing to flip into black mama-mode, telling baby Kulture to "get that outcha mouth." (Watch below; wait until the end.)
Bozoma Saint John
They call her "Bad Ass Boz" for a reason—and clearly, it runs in the family. Celebrity marketing guru Bozoma Saint John posed with her mother and daughter for a "queens"-themed shoot, accompanying her post with a caption praising the tireless work and love of mothers. Queens, indeed.
Ilhan Omar
It's been an uphill battle for freshman congresswoman Ilhan Omar (D-Minn.) But the former refugee, game-changing politician and mother of three is fully aware of the impact of her presence—notably, as the first woman to wear hijab in the House—in our government, and as a working mom, as she noted in an Instagram post.
Yara Shahidi
Fellow Minnesota native Yara Shahidi is rarely without mom/doppelgänger Keri by her side, and on Mother's Day, she gave her bestie a #ChocolateMommyLuvMoment, crediting Keri with giving her daily guidance and likely sparking much of that now-legendary consciousness we admire in the young star.
KiKi Layne
It's been a big year for ingenue KiKi Layne, who has so far brought her luminous presence to not one, but two film reimaginings of black classic literature (If Beale Street Could Talk and HBO's Native Son). In a moving Mother's Day post, Layne pays tribute to her mother for making those dreams possible through her unwavering belief, sacrifice and love—and as we know, it paid off with a trip to the Oscars this year!
Oprah
Sadly, this was Oprah's first Mother's Day without her mother, Vernita Lee, who died last Thanksgiving Day. But the media mogul still found a way to celebrate motherhood with her tribe of surrogate daughters on Sunday, reminding us that all bonds aren't biological, and of the irreplaceable importance of mother figures in our lives.
Gayle King
Oprah's BFF Gayle had a double—no, triple—celebration this weekend, first hosting an "intimate conversation" with Michelle Obama at Atlanta's State Farm Arena, then commemorating both Mother's Day and daughter Kirby's birthday on Sunday. King sweetly marked the occasion with throwback photos of Kirby and her own late mother, Peggy King.
Jada Pinkett Smith, Willow Smith and Adrienne Banfield-Norris
For the ladies of Red Table Talk, Mother's Day was an opportunity to not only pay tribute to matriarch "Gammy," but to remind mothers everywhere to prioritize self-care alongside their families. Because where better to have a teachable moment than at the red table?
Lena Waithe
Lena Waithe catapulted to fame by reliving some of her most challenging moments with her mother on Netflix's Master of None, but as the multi-hyphenate wrote on Sunday, she's in many ways molded in her mother's image, and has always got her back—"like chiropract."
Niecy Nash
The family that plays together stays together—and our vote for most fun family this Mother's Day has to go to Claws star Niecy Nash and her three children. Whether dressing in matching outfits or turning up for Beyoncé's "Before I Let Go" challenge (scroll below), this is one family who clearly likes to party.
Naomi Osaka
She's only 21, but Naomi Osaka is already dominating the world of women's tennis—and on Mother's Day, she gave a big thank you to her mom for making it possible. "Happy Mother's Day to all the [moms] around the world who sacrifice so much for their kids," Osaka wrote. "I promise you we don't forget it."
Michelle Obama
Our forever first lady is forever grateful for mom Marian Robinson, who memorably moved to the White House to support the first family during the eight years of the Obama presidency. In a deeply moving Mother's Day post featuring three generations of Robinson-Obama women, Michelle, who has emerged as a star in her own right, and now, bestselling author of Becoming, thanked her mom for always encouraging the development of her voice—which means we likely have a lot to thank her for, as well!