The Weekend Soiree's "Bedlam in the Big Easy" welcomed dope queer womxn from all over the country to New Orleans over Halloween weekend. With a packed schedule but no pressure to attend everything on it, the four-day retreat celebrated black queer joy, identity and love in each and every space.
Every aspect of the event was curated with intention and inclusion. From the moment we arrived, my partner and I were wrapped in care and luxury. Le Pavilion made for a luxurious host hotel and home base for the weekend and our gift bags were filled with queer-specific hospitality New Orleans-style: beads, pralines and coupons for restaurants around the city. Attendees chose their pronoun pins and trusted that people would use them throughout the weekend. I test-drove exclusively "they/them" pronouns for the first time, making it easier for my introvert to open up and join discussions around building community and exploring our respective industries as black and queer.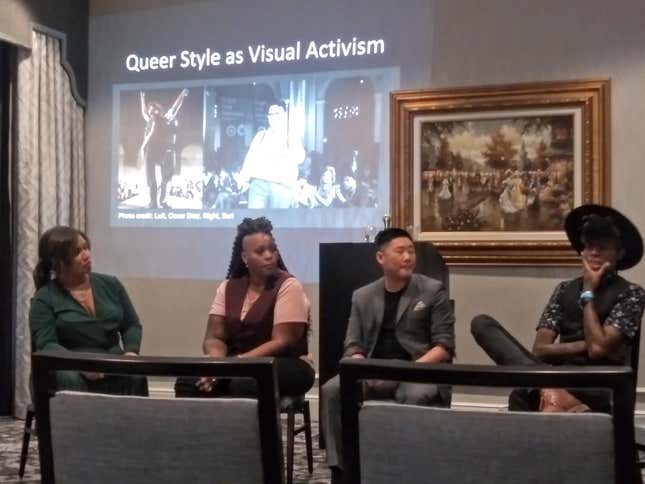 The day events were fulfilling and inspiring; the night sessions were equally as exciting. An array of brands were present to share their journeys: bklyn boihood led talks on masculinity and community building. Panelists discussed queer style as visual activism in a session moderated by dapperQ editor-in-chief, Anita Dolce Vita. Guests both single and boo'd up came out in their best and most creative costumes for the opening night Halloween party. Friday's casino night had games and world-class burlesque dancers. Saturday's craft and cooking workshops quickly doubled as a classic black cookout, complete with good food, strong drinks and an electric slide.
The best words I have to describe The Weekend Soiree are fulfilled and affirmed. There's always magic when you can spend time surrounded by blackness and queerness and joy, and you can forget about the systems that wish to take that joy from you. In those spaces, we cherish each other for existing out loud and recognizing the reflection of ourselves when we are all together. The opportunity to do so beside our partners was a gift that I don't think any of us took for granted. Everybody ain't and wasn't always able.
I was reminded of this reality when we saw the news of Robyn Crawford releasing her memoir, A Song for You: My Life With Whitney Houston. In it, Crawford details her life with the superstar singer and confirms their long-rumored amorous relationship. My partner and I had been so present in the weekend's festivities that we didn't get the news until we were back home. On my Twitter feed, queer black womxn mourned the missed opportunity of celebrating their love. I remembered Crawford in the background of Houston's photos and how, if she was spoken about, people spoke of how much she loved Whitney while not fully defining their relationship. I realized that watching them as a child taught me what being partnered with a woman would be like, long before I named my attraction to women.
Those photos said that if I loved another woman, I'd never be able to stand proudly by a woman's side as her partner and lover; that her gifts to the world would be deemed more valuable than the love you share. I hadn't realized how long I'd waited to hear Robyn's side of the story, but now that it's here, I'm grateful that I've been able to step out of that thinking and build relationships that uplift both myself and my partner, in spite of the world.
Homophobia from both family and the music industry derailed Crawford and Houston's budding relationship and even now, critics have asked why Crawford would "out" Houston years after her tragic death. Crawford has stated that she "felt the need to stand up for our friendship." Their story has always been one of a closeness that others found uncomfortable, but that they found very natural. Robyn Crawford spent a lifetime beside one of the most iconic voices of our generation, a woman she'd known and loved dearly. After two documentaries and countless books from inside and outside Houston's circle, Crawford has a right to her story, and to share it openly.
Robyn and Whitney never got to experience an event like The Weekend Soiree. They never got to laugh full-throated at a comedy set of queer performers surrounded by other black queer couples. They never got to delve into a full life as partners and lovers. They never got to be together in public, proudly and sweetly enveloped in the beauty of their love. My experience at The Weekend Soiree, and especially my experiencing every step of it with my partner, makes me even more grateful to the weekend's organizers for showing us so much love and care and holding space for black queer womxn all over to celebrate our love stories.
The Weekend Soiree returns next year to Washington D.C. For more information visit theweekendsoiree.com. A Song for You: My Life With Whitney Houston is out now.