Well, here's a behind-the-scenes tidbit that Jeff Goldblum likely wasn't expecting (then again, it's Jeff Goldblum; we're pretty sure nothing much fazes him): While Goldblum shared British talk show host Graham Norton's couch with actors Chris Pratt, Bryce Dallas Howard and Thandie Newton, Newton was very candid in her response to Norton's query about why she doesn't wear a merkin during her nude scenes on Westworld:

I did say no to my merkin ... to be honest, one of the reasons [the costumers] provided them is because a lot of women do things to alter what's going on down there. So, I didn't need the merkin because I don't alter anything—[I have a] full '70s bush.
Yep, that's right: If you didn't already know, a merkin is a wig designed specifically for the pubic area and has multiple uses, both decorative and erotic. But in this case, it's appropriate for the Old West era that Newton's character, Maeve, primarily inhabits during Westworld and, as Pratt pointed out, also conforms to Motion Picture Association of America rules and practices.
But Newton had an even more practical reason for going au naturel on set: Apparently, the merkin takes even more time to apply than a good lace front—a full 45 minutes! As the mother of a young child, Newton simply felt that there were better uses of her time than covering up what was already there. (Fellow mom Howard nodded in enthusiastic assent.)
Frankly, we kind of loved hearing Newton wax poetic (pun intended) about her lack of a waxing routine. While we firmly believe that everyone's undercarriage is their own affair, it's refreshing to hear that Newton is so naturally at ease with her own—after all, it is perfectly OK not to "alter what's going on down there." (And aesthetic preferences aside, it's arguably more hygienic.)
G/O Media may get a commission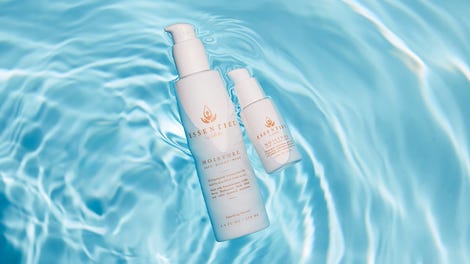 20% off
Essentiel by Adele
Pratt certainly didn't mind, declaring himself "pro-bush" before giving Newton a pound (no, really—absolutely no pun intended) for her transparency on the topic. And as for Goldblum? He just smiled.