"Bitch, I did a vision board and I'm not going to rest until I get all that shit that I put in it by the end of 2019," Cardi B exclaimed in a very ... revealing Instagram post on Monday.
Promoting the Thanksgiving and Black Friday return of items from her instantly sold-out collaboration with popular fast-fashion brand Fashion Nova, Cardi multitasked during a glam session, appearing to be topless as she was painted "nice and bronze" by makeup artist Erika La'Pearl while discussing upcoming meetings with the brand. In her own inimitable style, she expressed her determination to expand the collab to her exact specifications within 2019—despite any naysayers or potential obstructionists.
"With the help of God, Bitch, we gon' muthafuckin' make it, ya heard?" she smirked at the camera, before emphatically expressing her approval for La'Pearl's handiwork.
Well, God must be giving Cardi at least a little help, because just in time for the holidays, she made another dream come true: She purchased a luxury home for her mother.
G/O Media may get a commission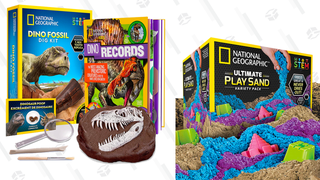 Up to 33% off
National Geographic Science and Activity Kits
"Stay down till you come up!" she captioned a post that gives a mini tour of the as-yet-unfurnished new digs, presumably in Cardi's native New York. "It's always been a dream to buy my mother a house. Last year I was so thirsty to buy my mom a house but the ones I was interested in for her weren't at my price range. I worked and worked and now I'm here!! Thank you everybody who supported me to make my childhood dreams come true! Buy my momma a house!!"
Undeniably, it's a dream many of us share, so regardless of whether you're a major fan, it's hard not to applaud this loving achievement—or to deny that Cardi's been putting in that work, nonstop. With an epic 2018 almost under her belt, looks like she's got a lot to be thankful for this holiday.