It's impossible to count the hours we've devoted to O.J. Simpson. The national obsession with him began in the late '60s, when he was one of the top football players in the country at the University of Southern California. Americans followed his career first as a record-breaking running back with the Buffalo Bills, then as an actor and a spokesman. He was all charisma in those years—an irresistible combination of grace, good looks and controlled power that made him appealing even to white America.
Then there was the crime—and the trial—of the century. The gruesome 1994 double murder of his ex-wife Nicole Brown and her friend Ron Goldman stunned the country, which became enthralled with the case. The ensuing trial launched media careers, spawning hours of coverage and analysis for a seemingly insatiable public. Years after Simpson was acquitted and before he was convicted on a separate robbery charge, he even appeared on his own reality TV show, Juiced.
One thing has been missing through all of this: Simpson's account of what happened. That will change on Sunday, when Fox airs an interview with Simpson from 2006 called O.J. Simpson: The Lost Confession? The interview, conducted by publisher Judith Regan, was tied to the promotion of the book If I Did It, in which Simpson, who continues to maintain his innocence, speculates on how he would have killed Brown and Goldman. The rights to it were acquired by the Goldman's family.
Soledad O'Brien, who hosts the Fox special, told The Root that the interview is unlike anything she's ever seen.
G/O Media may get a commission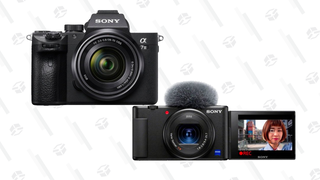 Cyber Monday Deals
Sony Camera Sale
"It is one of the—if not the most—bizarre interviews I have ever been a part of in the last 30 years that I've been in journalism," the veteran reporter said.
Simpson speaks "very bluntly—hypothetically—but very clearly" about what happened that night, O'Brien continued. But what makes the interview particularly striking is Simpson's manic quality—one that Terry Wrong, a producer of the special, mentioned in his interview with Variety.
"Watching his demeanor as he switches between being calm and laughing and then serious is really compelling and odd," O'Brien said, adding that despite hundreds of hours covering Simpson and the trial, she had never heard Simpson describe his relationship with Brown.
"I'd certainly never heard him on the stand; we never heard him describe his whereabouts on the day of the murders, either. Even that, in and of itself, gives you so much insight into their relationship," she said. "It's just a completely different perspective because you are hearing from O.J. Simpson himself, and that has not happened before."
Woven into the Simpson interview will be analysis and commentary from a panel of experts, including Simpson prosecutor Christopher Darden, a domestic violence expert, a criminal profiler and a longtime friend of Brown's. O'Brien said that watching Darden's reaction to the interview was particularly hard.

"To watch Chris Darden was like watching somebody get punched in the gut," she said. Another panelist, Brown's friend, cried while watching most of Simpson's interview.
In 2006 the I Did It book—and its corresponding promotional tour—were met with sharp backlash from the victims' families. They have since changed their minds, with both the Brown and Goldman families granting Fox permission to air the footage.
What's changed—and why should America listen to O.J. now?
O'Brien speculates that the families "wanted the world to hear O.J. Simpson in his own words."
"He never took the stand," she added. "They didn't really have anything that he had said, and they felt that it was important to have him on the record."
Simpson is now a free man—out on parole after spending nine years in a Nevada state prison for a botched robbery in a Las Vegas hotel. He's still lodged very firmly within the public consciousness, thanks in no small part to the FX series The People v. O.J. Simpson: American Crime Story, which offered a dramatized look at the trial, and the Oscar-winning documentary O.J.: Made in America, both released in the last few years.
O'Brien knows that, over 20 years after the murders, most people have made up their minds about whether Simpson was guilty. But Simpson's story—his ascent, his fall; the murders, the trial; and the long, winding aftermath—remains so much bigger than the man himself, and explains why the fascination with him endures.
"There are so many questions and also so many issues that are not about O.J. Simpson. The trial was about race. The trial was about celebrity. The trial was about policing. The trial was about discrimination. The trial was about the riots that had taken place years before," O'Brien said.

"The trial was about justice, [and] who deserves justice. It was about so many things in addition to being about O.J. Simpson that I think it's one of the reasons why it just never gets old, because there's still so much to parse through."