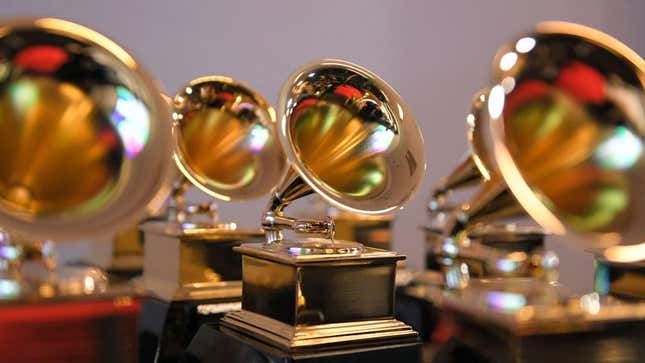 I thought this AI-generated music trend was behind us. I thought we were done with randoms on social media creating songs where Drake was rapping "Munch" or Rihanna was singing "Cuff It." Hell, even hip-hop legend Timbaland produced a song for an AI-generated Notorious B.I.G. But thanks to a new revelation from the Recording Academy CEO, the AI music nerds have been given new life.
Beyoncé Becomes The Queen of The Grammys With Record Wins
On Tuesday during an interview with the New York Times, Harvey Mason Jr. shared that the AI-generated track, "Heart on My Sleeve," which mimicked the voices of Drake and The Weeknd, was recently submitted for Best Rap Song and Song of Year at the 2024 Grammys and that it will be "absolutely eligible because it was written by a human."
Although this initial statement had me blown, he later added that the Recording Academy would have to investigate if the song was commercially available, since the Academy requires that a song must have a broad release and be available through streaming services, online retailers, stores, etc.
Why this is a problem
Look, I've outlined my problems with the Recording Academy before. They need more categories for Hip-Hop/Rap and their nominations are, at best, frustrating. But just when I thought the Grammys could not get any lower, this revelation came to my attention. I'm less upset with Mason's response and more annoyed by the Grammy's disconnected view of music.
Based on Mason's answer, the Academy sees music more as a commodity than as a way for artists to express ideas, emotions, and feelings. It's why whenever we as music fans look at the nominations, it's more of a reflection of the most popular music of the year and less about what was considered the "best." The two can sometimes be connected, but more often than not, they can also be mutually exclusive.
In the case of "Heart on My Sleeve," it'd be one thing if this song was simply shared as a track that was created using unique voices through artificial intelligence. That'd be pretty cool. But that's not what happened.
When the track started trending on social media and was being shared, it was promoted as a song that straight-up copied the voices of Drake and The Weeknd. It steals the likeness of two of the most popular and successful artists in the world. But just because it was created by a "human", it could be one of many songs up for nomination. Not good enough for me.
Now will it be nominated when we get the Grammys on Feb. 4, 2024? Probably not. But the weight behind Mason's words speaks to a bigger problem behind the Academy and why it has not been the standard that artists hold themselves up to for a long while.
The Recording Academy claims that the focus of these awards is the art and musicality of the songs, but until they prove it with their actions and words, fans will be less inclined to believe them.
As a result, you will have more artists who don't submit their songs for nominations and less fans tuning in to the live show.