This week was filled with more biopic news than we could count and a black superhero from Harlem. But the most powerful messages came from this week's reminders that bullying and sexual assault are never justifiable. The rape victim, Jada of Houston, whose attack went viral, along with Vanessa Williams' confession gave victims of sexual molestation a powerful voice this week.
1.     #IAmJada
After the rape of 16-year-old Jada went viral, social media stood in solidarity with the teen. The hashtag #IAmJada started to trend rather quickly as Twitter spoke out against bullying and rape culture.
2.     A first look at 'Whitney' and 'Bobby'
G/O Media may get a commission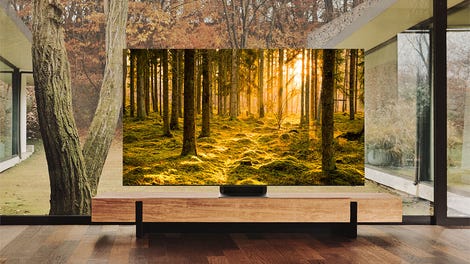 Up to 40% off
Samsung Smart TVs
If you weren't excited for Lifetime's biopic of Whitney Houston before, you should be now. We got a chance this week to see Yaya DaCosta as Houston and Arlen Escarpata as Bobby Brown. If this teaser photo of the couple doesn't get you ready for the film, Deborah Cox performing the late singer's music in the film will.
3.     Vanessa Williams' Shocking Confession
The actress revealed to Oprah's Master Class that she was molested at age 10, and she discussed the effects it had on her sexual development.
4.     Rihanna's #Free Palestine Tweet
Whether it was by accident, as her publicist says, or not, Rihanna raised some eyebrows when a #FreePalestine tweet was sent from her Twitter account and deleted moments after.
5.     Captain America Shakes Up the Superhero World
https://twitter.com/PlayVicious/status/489766325594517504
Marvel has created Captain America as we've never seen him before: a black man from Harlem. Needless to say, Black Twitter had a field day coming up with scenarios it imagined the superhero would experience.
6.     The Show Must Go On
https://twitter.com/WendyWilliams/status/490136983877210112
There's no stopping this train, according to Wendy Williams, the new executive producer of Liftime's Aaliyah biopic. She announced via Twitter that she will be at the helm of the film's production along with Debra Chase. She also announced that Alexandra Ship, of House of Anubis and Victorious, will be starring as Aaliyah.
7. Prejudiced Casting Call?
The casting call for the N.W.A. biopic  Straight Outta Compton garnered a lot of negative attention, but Universal Pictures tried to clear the air by saying it did not approve of the casting call and was in no way associated with it. The casting call for women described the perfect candidate for the lowest tier of roles for extras as "African American… Poor, not in good shape. Medium-to-dark skin tone."
Taryn Finley is a summer intern at The Root. Follow her on Twitter.