Tweeting "#FreePalestine" has another celebrity coming under attack. Last week NBA star Dwight Howard tweeted that hashtag and then deleted it. After receiving a barrage of tweets accusing him of picking sides, Howard tweeted an apology:
Some were happy to see that Howard deleted the tweet:
https://twitter.com/dorothyofisrael/status/488083426969665537
Others, not so much:
https://twitter.com/Hamarai/status/488083974653087744
Earlier Tuesday, Rihanna had a similar incident on the social media site and is now quickly backtracking. The Bajan singer tweeted "#FreePalestine," just like Howard, but deleted it after eight minutes, coincidentally around the time the ceasefire fell apart.
According to TMZ, a source told the site that Rihanna's tweet was merely an accident. The source said that Rihanna was reading about the conflict in the Middle East and clicked a link, which subsequently posted the tweet. The source told TMZ that Rihanna is not pro-Palestine or pro-Israel, "she is pro-peace," saying, "She doesn't want innocent people dying."
https://twitter.com/miriannaaa/status/489141072035983362
As outspoken as Rihanna is on social media, if she tweeted her support on purpose, maybe she should have owned up to it. If you can proudly claim #freethenipple, then you can show solidarity for a cause you believe in by tweeting "#freepalestine" without worrying about a backlash.
G/O Media may get a commission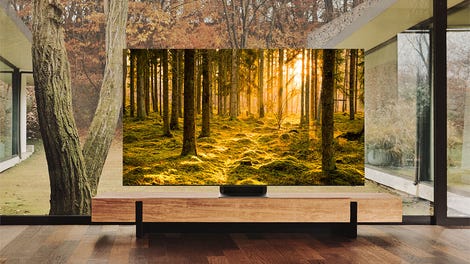 Up to 40% off
Samsung Smart TVs
It seems as though some celebrities are afraid to voice their political opinion out of a fear of revenue loss. In the words of Malcolm X, "If you don't stand for something, you will fall for anything," no matter whose side you're on. 
Yesha Callahan is editor of the Grapevine and a staff writer at The Root. Follow her on Twitter.