Last spring, when Kimora Lee Simmons announced that Baby Phat was coming back, those of us who enjoyed the label at its '90s and early-aughts heights admittedly got a thrill—though we knew full well those velour tracksuits might not look quite as flattering on us 20 years later. (Fun fact: According to a release from the brand, Rihanna purchased the entire range of vintage Baby Phat pieces from Bergdorf Goodman's Private Collections earlier this year.)
But when the label dropped its first tease via fast-fashion site Forever 21 in June, it admittedly wasn't quite the rush of nostalgia we were expecting. While the demand was clearly there—the collection sold out within 24 hours—more than a few of us old heads couldn't help but wonder: where were our glossy puffers and—most importantly—where were our tracksuits???
Thankfully, that was just a tease, and Kimora's got much more in store—with a new generation both on her mind and by her side at her recently reclaimed label. Teenaged daughters Aoki and Ming Lee Simmons are now part of the family business, and like their model mom, are at work both in front of and behind the camera as Baby Phat reemerges with its first drop of separates, simply called "Sport."
G/O Media may get a commission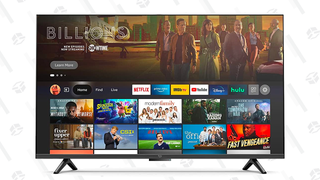 22% off
Amazon Fire TV - 50" Omni Series 4K - Early Access Deal
"OG Baby Phat was a movement—it changed everything for urban women who until then were totally unrepresented and overlooked in 80s/90s fashion," Kimora says in the release. "Baby Phat gave a lot of women—especially women of color—a voice and freedom of expression. Now my girls are grown, and we have the chance to celebrate the Baby Phat lifestyle with not only nostalgic Gen Xers, but millennials, Xennials and centennials that weren't even born the first time around. Now they get to be a part of that legacy."
Building on that legacy, the iconic tracksuits are back (though not in the iconic pink we were expecting—yet), along with a collection of tanks, tees and other sportswear separates. And Baby Phat also boasts new campaign stars—and directors—in Aoki and Ming, who are aiming to bring fresh new energy to their mother's much-beloved brand.
"Aoki and I grew up walking the runway at the close of our mom's New York Fashion Week shows," says Ming. "We've spent so much of our lives with this brand—it's so cool to bring a fresh approach and to be able to create something for how women and girls dress today. Athleisure got too basic—style got diluted—this is about refreshing the streetwear our mom invented."
But again, this is only the beginning, as following the 17 items dropped this week (which range in price from $70 to $300), Baby Phat will echo fan Rihanna's model with Fenty Maison, making more surprise drops in the coming weeks and a special secondary holiday capsule collection next week at Forever 21. Further expansion plans include denim and beauty launches in 2020 and line at a mid-tier price point. In short: the cat is officially back—and listening to its loyal fans.
"I think it's really exciting to see how Baby Phat lives in 2019," says Aoki. "We have this whole online shopping and social media universe that didn't exist before. From the first day we announced that there was a Baby Phat relaunch in the works, back on International Women's Day in March, we have had women clamoring for new tracksuits via comments and DMs on Instagram—or begging us to restock our capsule collab. There's so much passion—we take all the feedback to heart. We get to interact with Baby Phat fans in a way the brand never got to do before."
That new interaction even includes the ability to audition for upcoming campaigns online, but for now, Baby Phat's tightly edited first drop is available online, just in time for the holidays. You can preview its initial offerings below.