If I tried to review the entire BET Awards, which went on for a smooth four hours, I would be writing until Blue Ivy released her second greatest-hits collection. So in the interest of time, I'll only cover where my prerogative leads me. Feel free to cue up select tracks from the catalog of the legendary Kang of R&B, Bobby Brown, while reading this.

Overall, I would say that once again, the BET Awards proved itself to be the most vital and entertaining awards show on television. I get that it's a thing for some to pile on BET, but, beloveds, y'all will never be this gassed about the MTV Video Music Awards, the Billboard Awards, the Oscars or any other awards show. Some of us will repeat that sentiment every year until y'all shut the hell up.

Now that I've gotten the positive affirmation out of the way, let's discuss some of the missteps in terms of production. Clearly, this was the first show without Stephen Hill at the helm. The show lasted 30 minutes longer than scheduled. I love my people and I love my people's awards show, but four hours is a long time—especially when your preshow is two hours.
Meanwhile, this show has suffered from technical difficulties from time to time in the past, but c'mon, nah, you can't cue up a performance and then say, "Wait-wait-wait, let's have a do-over." Shoutout to SZA, though, for handling that with grace. Still, there seemed to be some occasional sound issues, and the cues were off. Also, who thought that conveyor belt or whatever you call that moving contraption was a good idea? So glad no Negro fell and proceeded to curse out Debra Lee and Co. before presenting a humanitarian award.

As for the host, Leslie Jones, my lord, is she blessed with the gift of volume. Very few people can make Mo'Nique seem "low energy" by comparison, but that Leslie Jones—whew, she could wake up half the world if she ever decided to sing "One Sweet Day" in the shower.

G/O Media may get a commission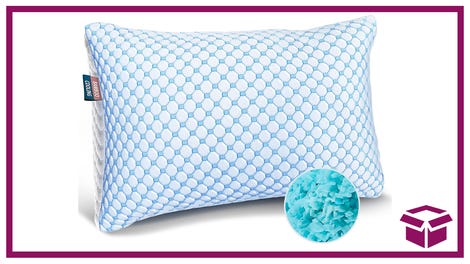 23% off
Nestl Cooling Pillow - Queen Size
Like, I can hear her even here.

In any event, I was reminded that while I hated the time racist trolls picked on the Saturday Night Live cast member, her actual humor can be an acquired taste. She had some funny moments, but there was something amiss with her monologue and a few of those sketches. You could tell the crowd felt similarly at times, 'cause Jones got plenty o' church claps as she cracked jokes. But she looked nice in red, and she seemed extremely happy to be hosting. I'm going to leave it on that note and wish her well should she get booked again.

OK, the performances.

Bruno Mars: As a performer, Puerto Rican Frankie Lymon is near perfection and in a league of his own. Funny enough, he had an entire arena of black folks cheering him on while a few on Twitter debated earlier whether or not he was guilty of "cultural appropriation." Much like y'all's president, Minute Maid Mao, folks learn terms and don't really know what they mean, yet use them anyway. The man's music may be derivative, but he respects black music and black culture and vocalizes that respect often, and obviously we know that otherwise he wouldn't have opened the BET Awards.
Now, as far as that lil' clip of him dozing off while Mary J. Blige performed, I don't think he was bored at all. No, no, he was just coming down. Off what? I doubt I'm allowed to say anything else, so let's move along.
Mary J. Blige: I love her for beginning her set with that song that basically is one big fuck-you to her soon-to-be ex-husband, Kendu Isaacs. Isaacs went on Instagram after the performance to express his grievances and say he wants to talk to Mary. Kendu, we don't care, and we resent you for what you've done to the Queen. Shoo, sucker. Shoo.

That said, I wish Blige had done "Glow Up" instead of "Love Yourself." A$AP Rocky should start a beauty brand, though.

Future: If you can't say "Percocet, Molly, Percocet" during a performance of "Mask Off," you have been officially sabotaged. The staging was sexy, though, and as a member of Future Hive, I feel obligated to say I still enjoyed everything for what it was. I also liked Kendrick Lamar dressed like a Negro League Jax Teller.
Big Sean: Was that a Beyoncé tribute? Even so, I appreciate Sammy Davis Jr. in snack form trying to offer more. Lord knows most rappers don't dare make as much effort.
Chris Brown: That song sounds like every other song he makes. Same for the performance. Light Ike danced down, but you know, heaven knows he needs a hug, new creative director and artistic direction. And did he violate his restraining order being there? Please advise.
Migos: I thought I was sick of "Bad and Boujee" until they performed it and I leaped from my seat to let my feathers fly freely. I love them. They are rock stars; stay mad, Hip-Hop Hannibal (Joe Budden).

Trey Songz: Trey Songz is fine, but what were those vocals? Trey Songz is fine, but what was that song? Trey Songz is fine, but what happened?
Xscape: I am very happy for them, especially Tiny. They all looked good, although I don't completely disagree with those that say they weren't all dressed for the same show. You got the sense that they had some sound issues because LaTocha Scott noticeably took her ear piece out midway. Either way, love them and loved their performance. They need to go on tour.

El DeBarge: Black people love George Michael, and El DeBarge seems to be locked in a closet and only let out when the BET Awards are on, so this pairing made sense. And it was good.
The New Edition cast members: My first reaction was to objectify the adult actors, but I'll tuck in the thot and just say that, once again, they were fantastic. I really wish Luke James could score a moment with his own music. He's a phenomenal Johnny Gill, but we need to get him some music that'll let him body-roll and sing like that with his original music.

The real New Edition: BET has really earned back its investment with the movie. Bobby Brown's mint accessory made my night, and I like that even if he's moving a lil' slower these days, he still keeps up. If that set was a tour commercial, they succeeded with me.
SZA: She sounded great—awful opening that was no fault of her own notwithstanding. However, she probably should have performed in the first or second hour. The sequencing of performances felt off.

Tamar Braxton: Tamar Braxton can sing exceptionally well, but she was not singing a lick during her performance of "My Man." So why she was aggressively moving her wig like it was dipped in a fire ant bed before she glued it to her head is beyond me. I saved this for last because it was the absolute most.
All right, before I (let) go:
Cheers to Solange.
And Remy Ma for those wins.
Bye, blacks.