The Oak Bluffs Inn
The Oak Bluffs Inn is just one of the Obamas' getaway spots. Eric and Rhonda Albert's luxurious B and B is on Oak Bluff's main street, Circuit Avenue. It has nine guest rooms and one apartment. Rates range from $100 to $600, April 15 to June 17; $225 to $600, June 18 to Sept. 11; and $100 to $600, Sept. 12 to Oct. 31.
See the rooms.
Read about the island's African American Heritage Trail.
Call 508-693-7171 or email bmyguest@oakbluffsinn.com.
Captions by Frank McCoy
The Inn of Treasured Memories
G/O Media may get a commission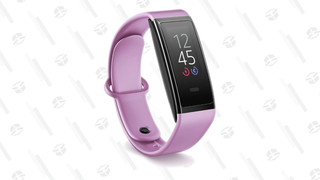 44% Off
Amazon Halo View Fitness Tracker
"Colonel" Hank and Jane Henry opened the Inn of Treasured Memories in 2009. Their B&B has three guest bedrooms that provide an oasis far from everyday stress. Amenities include a saltwater resistance pool, an elevator, 100 percent wheelchair accessibility, satellite TV and on-premises parking. Cape Cod's beaches and golf courses are nearby. In-season per-night rates range from $185 to $200, off-season from $130 to $160.
Take a tour.
Call 508-430-1004 or email contact@innoftreasuredmemories.com.
Quintessentials B and B Spa
In 1994 innkeeper, and former Wall Street banker, Sylvia M. Daley opened Quintessentials on the North Fork of Long Island. Daley, a native Jamaican, is a founding member of the African American Association of Innkeepers International and wanted to create a Caribbean-style getaway. The 1830s manor house has five rooms and suites with fireplaces, whirlpool baths, private decks and gourmet meals. Rates range from $265 to $310 per night.
More details in the next caption …

More About Quintessentials B and B Spa
Spa packages may include two massages or two facials, plus dinner at the top local restaurant. Spa amenities include body, skin and nail care, waxing, water therapy, a sauna and a Japanese meditation garden. Personalized packages are available. The B and B is near beaches and 33 Long Island vineyards.
Take a video tour.
Call 631-477-9400 or email innkeeper@quintessentialsinc.com.
Arbor View House Bed and Breakfast
Good business sense runs in families. Veda Daley Joseph and Wilfred Joseph own the Arbor View House Bed & Breakfast, while Veda's sister, Sylvia, owns Quintessentials B&B Spa, mentioned earlier. The Joseph's Victorian style inn in the North Fork wine country has one suite and three guest rooms. Rates range from $260 to $315 per night.
More details in the next caption …

More About Arbor View House B and B
The inn offers shiatsu, hot stone, Reiki, Thai and couples massage. It also has an aromatherapy bath, yoga, afternoon tea, iPod docks, Wi-Fi, concierge services and a nearby beach.
Read the blog.
Call 631-477-8440 or email Innkeeper@ArborViewHouse.com.
Akwaaba Mansion
In 1995 Monique Greenwood and husband Glenn Pogue opened Akwaaba Mansion, the first of their four elegant, stylish Afrocentic B and Bs. Akwaaba means "welcome" in Ghana's Akan language. The 1860s Italianate villa in Brooklyn, N.Y.'s Bedford-Stuyvesant neighborhood has four fully appointed, themed guest rooms: Jumping the Broom Suite, Regal Retreat, Ashante Suite and the Black Memorabilia suite. Rates are $175 Monday-Thursday, and $190 Friday-Sunday.
Call 866-466-3855 or email info@akwaaba.com.
Akwaaba by the Sea
 The 1850s Victorian home, in America's oldest seaside resort, rents as a full vacation house and has five themed guest chambers: Mayor's Retreat, Dolly's Boudoir, Helen's Haven, the William J. Moore suite and the Stephen Smith suite. The rate is from $2,500 to $3,200 per week depending on dates. Amenities include private baths, an outside shower and a BBQ grill, as well as on-site parking. In-room spa services are available. Package stays are also available.
Call 866-466-3855 or email info@akwaaba.com.
Akwaaba at Buttonwood Manor
In 1988 Monique Greenwood and Glenn Poque visited their first B&B. Two years ago they bought this inn, which is across the street from Akwaaba by the Sea. Buttonwood Manor has five guest rooms in the main house and two guest suites in a carriage house. One suite has a full kitchen, the other a kitchenette. Rates range from $150 to $220. Amenities in the 1908 inn include custom toiletries, Wi-Fi, a Southern breakfast, a tent area for parties, patio and BBQ, afternoon refreshment and on-site parking. Vacation packages are available.
Call 866-466-3855 or email Akwaabainn@aol.com.
Akwaaba DC
Akwaaba DC is located in stylish Dupont Circle in the nation's capital. The historic 1890s townhouse showcases black literary interests. Its eight guest suites are named after popular genres, as well as authors including Toni Morrison, Walter Mosley and Zora Neale Hurston. Rates are seasonable and generally range from $150 to $220.
More details in the next caption …

More About Akwaaba DC
Amenities include an extensive library, author readings, Wi-Fi, Jacuzzi tubs and couples showers. In-room spa services are available, as are package stays.
Take a tour.
Call 877-893-3233 or email Akwaabainn@aol.com.
DC GuestHouse
Four friends own this gorgeous bed and breakfast, which was opened in 2003. It is a short walk from the D.C. Convention Center and has six differently themed guest rooms. Rates range from $175 to $325 per night, depending on the season and availability. It has the usual high-end amenities; plus, some rooms have fireplaces and most have private baths. Trip Advisor ranks the guesthouse as among the district's top five B and Bs.
Check out the D.C. Guesthouse blog.
Take a tour.
Call 202-332-2502 or email info@dcguesthouse.com.
The Dupont Collection
The Dupont Collection is the umbrella heading for three well-regarded B and Bs in Washington, D.C. They are the Inn at Dupont Circle North, the Inn at Dupont Circle South and the Brookland Inn. Links to all are on the Dupont Collection site.
More details in the next caption …

More About the Dupont Collection
The Inn at Dupont Circle North has eight rooms. The Inn at Dupont Circle South also has eight rooms, including one for budget travelers. Rates range from $95 to $280 per night at both inns. The Brookland Inn has seven one-bedroom suites and two two-bedroom suites. Rates per night range from $100 to $250. The Brookland Inn also houses the Brookland Café, which has both a regular menu and a 14-item vegan menu.
Call 866-467-2100 or 202-467-6777, or email inn@theinnatdupontcircle.com.
The Intown Uptown Inn
The Intown Uptown Inn is ranked second by Trip Advisor out of 48 B and Bs/inns in Washington, D.C. It has also won a bedandbreakfast.com Best Urban Inn award three consecutive years. Located in a semi-residential central neighborhood, the inn has nine guest rooms and affords easy access throughout the District. Rates range from $125 to $184 per night. Note: Breakfast may include delights like crab quiche and caramel-apple French toast. 
Tour the inn.
See more photos.
Call 202-541-9400 or email sandy@iuinn.com.
Magnolia House Inn
Magnolia House Inn, which is on the National Register of Historic Places, has a five-star Trip Advisor rating for service, value and quality. Located in Hampton, Va., this B and B has three guest rooms, and rates range from $160 to $240 per night. First-class amenities abound, and packages are available. By the way, if you decide to jump the broom, innkeepers Joyce and Lankford Blair are certified, ordained, nondenominational wedding ministers.
Click here to see Joyce lead a tour.
Call 757-722-2888 or email stay@maghousehampton.com.
Morehead Manor Bed & Breakfast
Innkeepers Monica and Daniel Edwards love their B and B and hope you will, too. The 8,000-square-foot home, originally built for the CEO of Liggett and Meyers, is close to downtown, the Durham Bulls baseball stadium and North Carolina Central and Duke universities.
More details in the next caption …

More About Morehead Manor B and B
There are three guest rooms and one suite with private baths, and rates range from $145 to $209 per night. All the usual amenities are offered, and special packages are available. The inn was voted "Outstanding Inn in the Southeast" by Inns Magazine.
Call 888-437-6333 or email bmyguest@moreheadmanor.com.
Hubbard Mansion Bed and Breakfast
When you hear Louis Armstrong sing "You Know What It Means to Miss New Orleans" on the Hubbard Mansion website, you get a sense of place. (The "music off" button is in the upper-left corner.) This Greek Revival home in the Crescent City is furnished with period fixtures and has top-flight amenities. The Hubbard Mansion, which was opened in 2000, has five suites and two executive apartments in an adjacent carriage house. Rates range from $139 to $189 for the suites and vary for the carriage house.
Call 504-897-3535 or email hubbardmansion@yahoo.com.
Ye Olde Manor House
Somehow Ye Olde Manor House pleases meat lovers, vegetarians and vegans, which is part of its charm. There are eight guest rooms with private baths, an indoor swimming pool and two terraces. The inn, which is 40 minutes southwest of Milwaukee and approximately 90 minutes north of Chicago, is close to summer and winter sports, concert venues and antique shops. The innkeepers are Karen Fulbright-Anderson and John M. Anderson. Rates range from $135 to $220 per night.
Call 262-742-2450 or email innkeeper@yeoldemanorhouse.com.
Luna Vista Bed and Breakfast
Innkeepers Kala and Frank welcome visitors to the Luna Vista Bed & Breakfast in north-central Arizona, 100 miles from the Phoenix airport. The Southwestern contemporary inn has two king suites, two queen suites and one two-room family suite.
Check out the photo gallery.
More details in the next caption …

More About Luna Vista B and B
Rates range from $99 to $235 per night. Amenities include therapeutic massages, an in-room jetted spa and steam bath, a Southwestern breakfast and swimming. Bring your own horses for local riding trails. Excursions to Native American ruins and the Grand Canyon are available.
Call 928-567-4788 or email info@lunavistabandb.com.