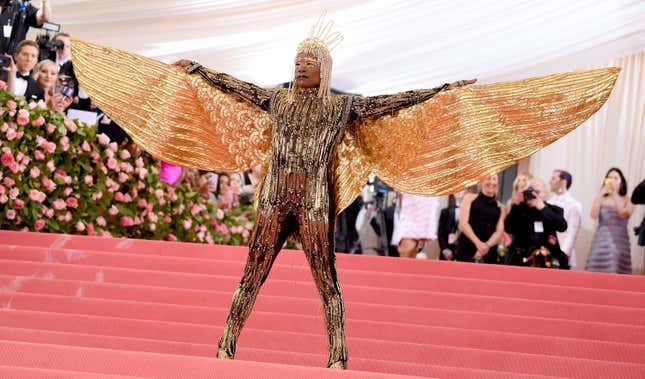 For longtime followers of the Met Gala, it was hard to imagine the event's red carpet could hold any more excess, ingenuity and just plain being extra than in years past. But 2019's theme, "Camp: Notes on Fashion" inspired unprecedented creativity on this year's carpet (which happened to be pink, in honor of the irreverent occasion) and, as it turns out, a significant amount of confusion.
"What is 'camp'?" was the question raised by onlookers, attendees and correspondents alike, as celebs pranced up the steps of the Metropolitan Museum of Art on Monday, each interpreting the theme in their own way, as per usual. (Though surprisingly, no one decided to go meta in Girl or Boy Scouts attire.)
Despite a 16-minute choreographed entrance by co-host Lady Gaga in a series of gowns by Brandon Maxwell, in our opinion, it was Broadway and Pose star Billy Porter who stole the pink carpet—and our hearts—with his Egyptian-inspired entrance, reclining on a chaise as he was carried in by six shirtless manservants.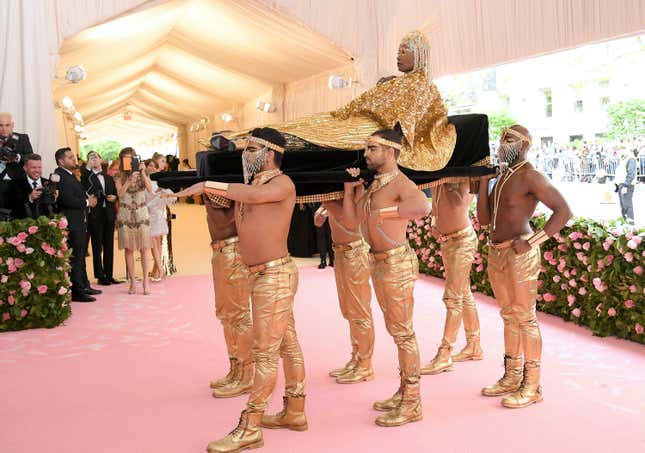 Once on the ground, Porter continued to astound, revealing a Sun God-inspired ensemble by The Blonds styled by Sam Ratelle, who also collaborated with Porter on his Siriano-designed tux ballgown at the Oscars, and the incredible caped ensemble he wore to the Golden Globes.
G/O Media may get a commission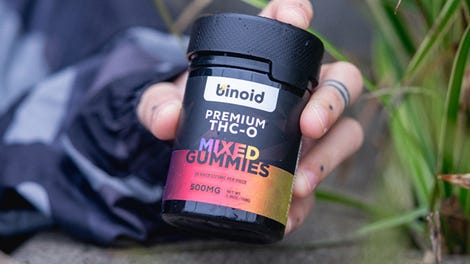 25% Off + Free Shipping
Binoid THC-O Gummies
With that in mind, it'd be fair to say Porter is an aficionado of camp, and speaking with Vogue's pink carpet correspondent, Liza Koshy, he credited his still rising career to the series of so-called "campy" roles he's played.
"For many, many years, [camp has] been used as a pejorative," said Porter. "And I think when you have something like this, it brings the respect back to something that is high, high art; high craft."
And it was absolutely high art created by Porter's makeup artist, La Sonya Gunter, who dipped into shades by Pat Mcgrath Labs to create Porter's golden and gilded look. A friend of The Glow Up, the Emmy-nominated Gunter, who has worked with Porter since his days starring on Broadway in Kinky Boots, gave us the scoop on how the look came together.
"Billy and Sam Ratelle had a vision; I had the know how. So we fused that together," she coyly said. To stay true to the theme, Gunter referred to the Met Gala's source material, the essay "Notes on Camp" by Susan Sontag, which includes a quote from Oscar Wilde.
"One should either be a work of art or wear a work of art," she recalled, citing the quote as her inspiration. "And I smiled and said, 'Billy 's both.' 'Encrusted,' 'Regal,' 'Sun God' came to me, and I went from there..."
Gunter encrusted Porter's eyes and lids with gold, silver, and crystal rhinestones, creating a regal, multidimensional look over golden shadow (McGrath suggests Gold Standard; Gunter used it with a mixing medium). To contrast the pharaonic golden eyes, Gunter used McGrath's Deep Void on Porter's lips, accenting with the same golden shadow. Voilà, Sun God.
Still confused about what camp is? Think over-the-top, tongue-in-cheek, too-much-is-never-enough fun. Hell, aside from Porter and Gaga, think Bette Midler or Cardi B. Hell, think Cher, who was the the night's surprise musical performer. Or RuPaul, who DJ'd a post-performance set.
I'd even argue that at this particular juncture in history, we need camp; we need levity, and light, and a reminder that all frivolity and ridiculousness don't need to come from our current resident of the White House.
But obviously, the theme was ripe for interpretation, as evidenced even by singular designer Dapper Dan, who dressed a bevy of beauties in a variety of styles, including a romantic and rose-haired Regina Hall, an all-legs Ashley Graham, fashion legend Bethann Hardison in red, black and green, and a regal Bevy Smith (who wore his Gucci cape over a gown by Harlem's Fashion Row designer Kimberly Goldson, shoes by Tianna Barnes, and worked with an exclusively black glam squad). And Dan dressed quite a few gents in style, as well—including Omari Hardwick, 21 Savage, and, of course, himself.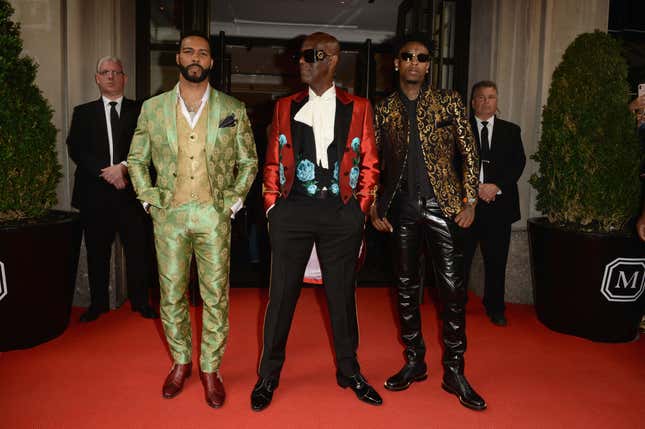 Back to the pink carpet, where gala co-host Serena Williams wore neon Nikes under her extravagant yellow and pink Versace gown (much like she did at friend Meghan Markle's wedding reception). Ciara's Dundas look was Diana Ross-meets-Mackie-era Cher, while Danai Gurira reimagined the dandy with a Gabriela Hearst-designed homage to Oscar Wilde. Ever on brand, Janelle Monae riffed on The Mad Hatter in a surrealist Christian Siriano dress that literally winked, while the designer hinted that Laverne Cox's sculptural look was inspired by a black orchid. Tessa Thompson played a haute couture dominatrix in Chanel, while Lupita Nyong'o looked like Marie Antoinette stumbled into the cast of The Wiz, wearing rainbow-hued Versace and a towering afro studded with Black Power picks.
And yes, we instantly caught the blaxploitation-era pimp-inspiration behind Tiffany Haddish's glittery, zebra-patterned Michael Kors Collection suit (with the added accessory of a Ziploc full of fried chicken in her matching bag). Equally obvious was that Tracee Ellis Ross is a literal work of art, and that Lena Waithe and Pyer Moss designer Kerby Jean-Raymond were evoking the pivotal documentary Paris Is Burning (with a side of Us). But we almost missed the glamorous muse behind new Oscar winner Regina King's look; her shimmering Oscar de la Renta gown paid homage to the "black Garbo," early screen actress Nina Mae McKinney.
Admittedly, we initially thought Cardi B's ruby red custom Thom Browne gown (the reported brainchild of stylist Kollin Carter) was a play on the Alice in Wonderland's Queen of Hearts (because c'mon; aside from the color, there were hearts strategically placed on her chest and famed derriere). In fact, in our dream scenario, Nicki Minaj would've dressed as Alice, and all beef would be campily buried on the pink carpet. But as it turns out, the dress—which seemed specifically designed to rival the epic train of the canary yellow Guo Pei cape a missing Rihanna wore to the gala in 2015—was an homage to feminism and the female body, as Cardi told Koshy. The gown reportedly included an estimated 30,000 feathers and Stefere ruby "nipples" worth $250K each. (My female body has neither, but I digress).
But yes, now that we look again at the navel and crotch detail, perhaps we're actually looking at a couture vagina. (I mean, aren't they all couture?) After all, if anyone can make a vagina camp, it's Cardi.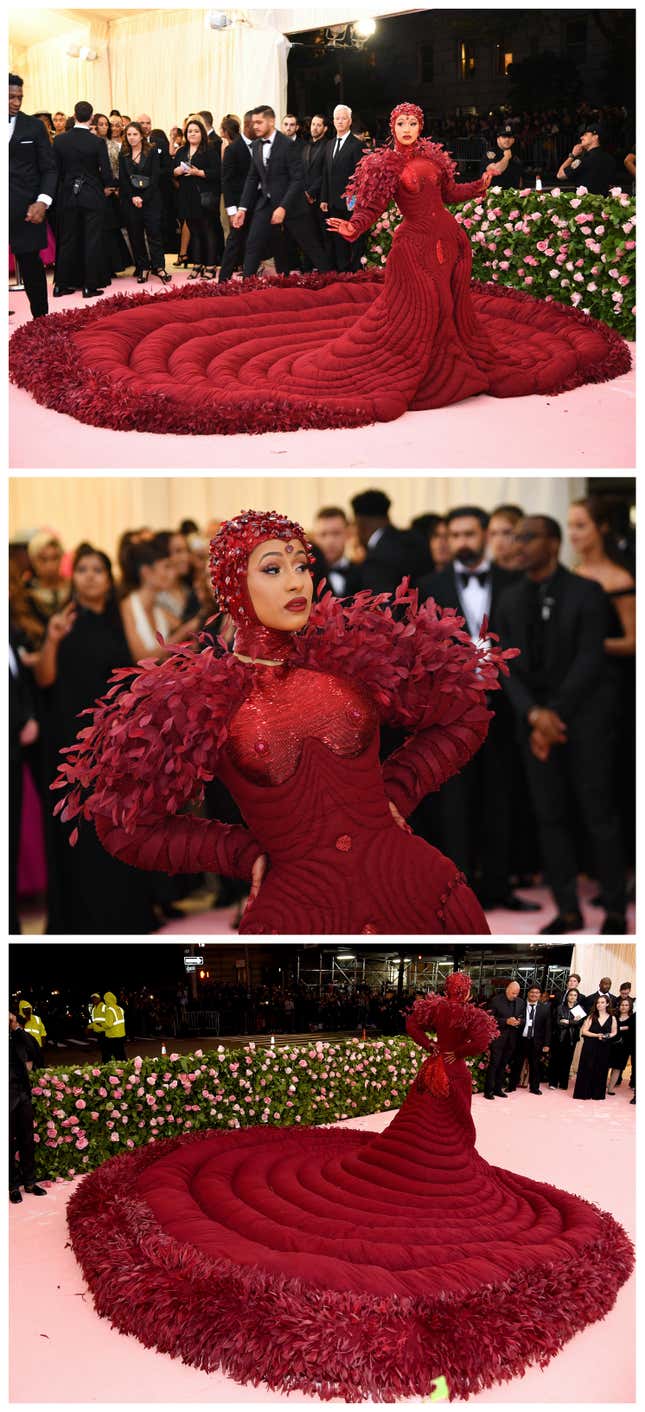 Then, there was the requisite Cinderella moment of the Met Gala, brought to fantastical life by the team at Tommy Hilfiger for former Disney kid-turned-bona fide starlet Zendaya, with longtime stylist and collaborator Law Roach playing her "fairy godbrother."
The look was made complete by a pumpkin coach-shaped evening bag and a discarded "glass" slipper (think lucite heel). At 22, it looks like our little girl is all grown up now, but like the true princess she is, Zendaya graced us with a behind-the-scenes of her gown's robotic infrastructure, which rivals her 2018 Versace armor and chainmail for intricacy and inventiveness.
How did the rest of our clique turn out for what The Sun Is Also a Star's Yara Shahidi told Vogue's cameras is a "fashion family reunion"? See for yourself in our slideshow below.
But if you're still confused about camp, consider this: while Cher, filmmaker John Waters and late drag queen Divine are all publicly recognized as camp, we've always been its backbone, setting the tone and keeping the rhythm, as per usual. Thus, the statement made by Lena Waithe—with a major assist by Jean-Raymond.

That's right; it was ballroom in the back and hip hop in the front, because this is how we do it. I bet you're ready to camp out now, huh?