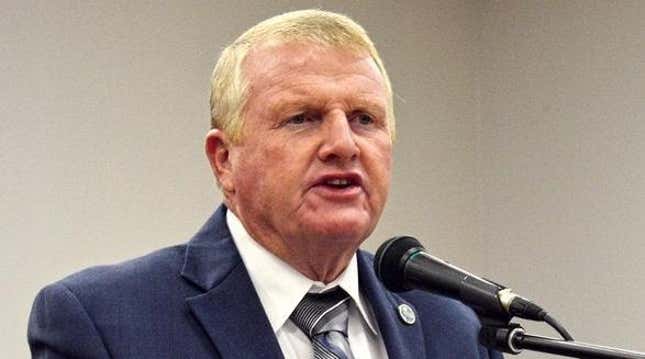 On Tuesday during a Criminal Justice Subcommittee meeting, Rep. Paul Sherrell, a Tennesee Republican from Sparta, suggested lynching as a way of executing death row inmates. "I was just wondering about, could I put an amendment on that that would include hanging by a tree also?" he asked.
Courtney B. Vance in Heist 88 Is Our Black TV Pick of the Week
This was Sherrell's response to a bill that would reinstate the firing squad as an execution option in Tennessee. He apologized, but it came off as disingenious as he read it from a piece of paper:
"I'd like to say that I regret that I used some very poor judgment in voicing my support for a colleague's bill in Criminal Justice committee. My aggressive comments were unintended to convey my belief that for the cruelest and most horrendous crimes, a just society requires the death penalty in kind. I sincerely apologize to anyone whom may I have hurt or offended. Thank you."
His gross words immediately set off backlash from the likes of the NAACP as well as Civil Rights Attorney Ben Crump. Now, members of the Tennessee Black Caucus are demanding for Sherrell to step down.
Rep. Sam McKenzie, Chairman of the Tennessee Black Caucus, told Nashville's NewsChannel 5: "[Paul Sherrell's apology] Didn't smack of sincerity; doesn't seem to be enough. I'm begging, come on, the GOP needs to come out and call this what it is."
More members from the Caucus said further action needs to be taken. "He needs to be removed from all of his committees immediately," Democratic Sen. London Lamar stated.
"I think that Representative Sherrell ought to resign," said Democratic Rep. Johnny Shaw added. Sherrell's also found himself at the center to controversy after he proposed a bill to rename a part of Rep. John Lewis Way in Nashville after former President Donald Trump.