Reporter Examines Kushner's Md. Properties

Trump Budget a 'Crackdown on the Neediest'

. . . Public Broadcasting Funds Would Be Slashed
Hannity, Pushing Conspiracy, Loses Advertisers
David Louie Still Chases Stories After 45 Years
Coates' 'Black Panther' Comic Spinoff Canceled
Univision, Telemundo Accused of Defamation
Journal-isms Inc. Gains Tax-Exempt Status
Chicago Radio Raises Funds for Summer Jobs
NABJ Names Four to Hall of Fame
Short Takes
Reporter Examines Kushner's Md. Properties
"Jared Kushner, the President's son-in-law, sues his Baltimore tenants for thousands of dollars in bogus debts, on which he also gets judgments allowing him to garnish their wages and drain their bank accounts," Edward Ericson Jr. reported Tuesday for Baltimore City Paper.
"This according to Pro Publica's Alec MacGillis, who reports in a story for this Sunday's New York Times Magazine that Kushner quietly bought-up thousands of modest and run-down apartment units in Essex and other Baltimore suburbs, whose tenants complain of poor maintenance, harsh rent collection techniques, and relentless pursuit of old and sometimes dubious debts generated after tenants moved out."
By email, MacGillis gave Journal-isms his "rough sense" of the racial breakdown of the affected tenants:
G/O Media may get a commission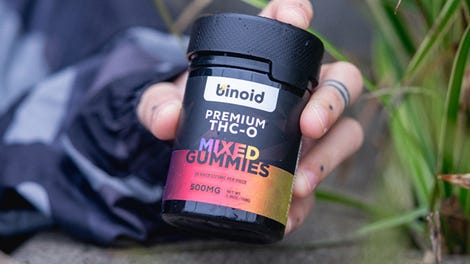 25% Off + Free Shipping
Binoid THC-O Gummies
"Four of the 15 complexes are virtually all black.
"9 or 10 of them are mixed white and black, in varying degrees. Most of those are probably still majority black.
"1 or 2 have quite a few Hispanic residents mixed in as well."
Ericson continued, "MacGillis leads off with Kamiia Warren, who moved out of Cove Village in Essex years ago to get away from a crazy neighbor. She had permission to do so from the apartment's managers, yet Kushner's company sued her years later for breaking the lease, winning more than $3,000 plus fees and expenses: almost $5,000 total by 2014.
"At one point in the story, a private investigator looking into Westminster Management, [Kushner's] property management company says, 'they're nothing but slumlords.' MacGillis notes the P.I. is a Trump supporter and had no idea of the connection between Trump's son-in-law and Westminster.
"MacGillis finds hundreds of cases, and the story profiles several other tenants with similar experiences. . . ."
The Times website had recorded nearly 700 comments on the story by Wednesday night.
Trump Budget a 'Crackdown on the Neediest'
"President Trump has set one goal that all Americans can get behind, and that's making the sluggish U.S. economy grow faster," the Los Angeles Times editorialized on Tuesday.
The editorial also said, "But rather than grapple with some of the challenges underlying the disappearance of millions of Americans from the workforce — in particular, the technological changes and globalization that have caused so many blue-collar and middle-class jobs to evaporate, and the gap between the education and training Americans have received and the skills demanded by today's employers — the Trump budget seeks to force people back into the workforce by making it harder to obtain or keep food stamps, Medicaid and Social Security disability benefits, while reducing federal support for welfare and children's health.
"The crackdown on the neediest and most vulnerable seems even more craven when considering the billions Trump's budget would shower on defense, border security and tax cuts for high-income Americans, corporations and partnerships. . . ."
. . . Public Broadcasting Funds Would Be Slashed
The Trump budget proposal would give the Corporation for Public Broadcasting, which supports operations of nearly 1,500 locally owned and operated public television and radio stations, a final $30 million in funding for 2018, Dru Sefton reported Tuesday for current.org.

"CPB would receive just $30 million to close itself down in President Trump's fiscal year 2018 proposed budget. . . .
"The draft notes that CPB provides about 15 percent of public broadcasting's total funding, with the remainder coming from nonfederal sources. 'This private fundraising has proven durable,' the document said, 'negating the need for continued federal subsidies.'
"In addition, the document noted, 'alternatives to PBS and NPR programming have grown substantially since CPB was first established in 1967, greatly reducing the need for publicly funded programming options. . . ."
Patricia Harrison, president and CEO of the Corporation for Public Broadcasting, said in a statement, "This is a service that benefits all Americans — those living in rural and urban areas who rely on broadcast for programs that are proven to get their children ready to learn, and provide access to life saving emergency alerts, as well as those for whom public media levels the playing field in terms of high-quality educational and informational content, through programs such as 'NOVA' and 'Nature' — all for approximately $1.35 in taxes per person each year. . . ."
Michael Calderone, Huffpost: GOP Candidate's Attack On Reporter Shows Peril Of Asking Questions In Trump's America
Karoun Demirjian and Devlin Barrett, Washington Post: How a dubious Russian document influenced the FBI's handling of the Clinton probe
Editorial, Daily News, New York: Trump shows some heart: A gracious hand to Haitians
Editorial, Kansas City Star: Trump budget replicates disastrous Kansas approach. This won't end well.
Editorial, Miami Herald: Haitians should not lose TPS status
Editorial, Philadelphia Inquirer: Philly's 'undocumented' live in fear of deportation under Trump
Alan Fram and Ricardo Alonso-Zaldivar, Associated Press: GOP health bill will leave 23 million without insurance
Clarence Page, Chicago Tribune: Bad press? Sometimes Trump begs for it
Leonard Pitts Jr., Miami Herald: There's no arguing with the facts — oh, wait!
Marcelo Rochabrun, ProPublica: Trump's Immigration Pick Attacked Obama Programs in Ghost-Written Senate Letters
Matthew Rosenberg, Adam Goldman and Matt Apuzzo, New York Times: Top Russian Officials Discussed How to Influence Trump Aides Last Summer
Trevor Timm, Columbia Journalism Review: Joe Lieberman atop FBI would be a First Amendment disaster
Rob Tornoe, Editor & Publisher: Digital Publishing: After Releasing Trump's Tax Returns, What's Next For David Cay Johnston and His News Site, DCReport? (May 17)
Hannity, Pushing Conspiracy, Loses Advertisers
"Cars.com, Casper, and several other companies pulled advertising from Sean Hannity's Fox News program Wednesday as the host continued to push a conspiracy theory about Seth Rich, the Democratic National Committee staffer who was killed in Washington, DC, last year," Mary Ann Georgantopoulos and Brianna Sacks reported Wednesday for BuzzFeed.
"For days, Hannity (pictured left) has been peddling a theory that Rich's killing was ordered by the Clintons in retaliation for leaking DNC emails to WikiLeaks. Police have said his death was the result of a robbery gone wrong. . . ."

Georgantopoulos and Sacks also wrote, "The decisions came after Rich's brother sent a letter to Hannity's executive producer pleading with him to stop spreading the rumor. On Tuesday, Fox News retracted a story tying Rich to [WikiLeaks] and wrote in a statement, 'The article was not initially subjected to the high degree of editorial scrutiny we require from all our reporting.'
"On his show Tuesday night, Hannity said he would stop talking about the conspiracy theory 'for now,' but later implied he will address it again. . . ."
Wayne Bennett, the Field Negro: Desperate times......
Joe Concha, the Hill: Hannity on attempted advertiser boycott: 'Nobody tells me what to say on my show'
John Eggerton, Broadcasting & Cable: Fox News Fires Back in Andrea Tantaros Suit
Paul Farhi, Washington Post: 'An absolute disconnect': How a crisis at the top could hurt Fox News at its bottom line
Hollywood Reporter: Sean Hannity Backs Off Seth Rich Story "For Now" Out of Respect for His Family
Kelly McBride, Poynter Institute: Fox News's retraction is a woefully inadequate response to its colossal mistake
Jim Rutenberg, New York Times: Sean Hannity, a Murder and Why Fake News Endures
Andrew Tyndall, Hollywood Reporter: Fox News' Post-Roger Ailes Problem: Ignoring Trump's Travails (Guest Column)
Erik Wemple, Washington Post: What does it take for Sean Hannity to abandon a conspiracy theory?
David Louie Still Chases Stories After 45 Years
"Share this story with your rookie reporters," Kevin Finch wrote Wednesday for the Radio Television Digital News Association.

"Ask them to project ahead decades into their career and see if it looks anything like the daily output of one David Louie, who celebrates 45 years with ABC-owned TV stations May 29.
"Take the floods in San Jose, California, Feb. 21: Louie was the lead reporter for KGO-TV, San Francisco, during an expanded noon newscast.
" 'We went into live continuous coverage for two hours,' recalls news director Tracey Watkowski. 'David was just fantastic — the play-by-play, explaining the situation. It was solid.'
"Watkowski cites other examples, including Louie's 'tremendous' coverage of a murder trial that began in January and didn't conclude until earlier this month.
" 'Hard news, breaking news, business, features — he can do it all,' Watkowski said.
'These days, doing it all is cranking out two stories a day, going live on TV, filing for the web and posting on several social media accounts.
"And did we mention he's been at it 45 years? . . ."
Louie, a Chinese-American from Lakewood, Ohio, notes that he was hired by KGO-TV in 1970. "It was about the time affirmative action was starting to get traction. (There were) challenges to licenses and other pressure" on TV stations. . . .
Coates' 'Black Panther' Comic Spinoff Canceled
"Marvel's Black Panther may have found the one enemy he cannot defeat: weak sales," George Gene Gustine reported May 17 for the New York Times. "His spinoff series, Black Panther & the Crew, which began last month, will be canceled with Issue No. 6.
"Notice of the cancellation came from the author Ta-Nehisi Coates, who has been writing the adventures of Black Panther since his latest series premiered in April 2016, in an interview with The Verge" on May 13.
"The decision was unusually swift, especially for a comic book with such an acclaimed writer, but Mr. Coates said the culprit was poor sales. . . ."
Univision, Telemundo Accused of Defamation
"Iván and Simona Aguilera, the son and daughter-in-law of Juan Gabriel, the Mexican music icon who died last year, are accusing Univision and Telemundo networks of reporting 'fictitious, defamatory stories' about them stemming from broadcast and published accounts of Joao Aguilera, a man claiming to be a secret biological son of the late superstar," Veronica Villafañe reported Monday for Forbes.

"The couple says the networks' efforts to profit on a sensational story led to them report 'false assertions that Ivan was responsible for his father's death, and that Ivan and Simona were engaged in "robberies" of Gabriel or his estate, among many other false and heinous claims,' without verifying those claims, effectively damaging their reputations.
"Iván and Simona Aguilera today filed a $100 million defamation suit against Defendants Univision Communications, Inc., Univision reporter Borja Voces, Telemundo Network Group LLC, Telemundo Media LLC, Joao Aguilera (Juan Gabriel's alleged biological son), Consuelo Rosales (mother of Joao), Alberto Gómez (alleged friend of Juan Gabriel) and attorney Annalie Alvarez, who represents Joao. . . ."
The Associated Press reported Tuesday, "Univision said in a statement Tuesday that the allegations lack merit. Telemundo said it is reviewing the complaint. . . ."
Journal-isms Inc. Gains Tax-Exempt Status
Journal-isms Inc., a legal entity created to publish "Richard Prince's Journal-isms," has been granted federal tax-exempt status retroactive to Feb. 9, the Internal Revenue Service has determined.
"Donors can deduct contributions they make to you under IRC Section 170. You're also qualified to receive tax deductible bequests, devises, transfers or gifts under Section 2055, 2106 or 2522," the IRS said in a letter.
"Journal-isms" began a "Stay Woke" GoFundMe fund-raising campaign in November, nine months after suddenly finding itself steering an independent path. The drive has raised $19,161 from 171 people in five months. Thanks to all who have participated!
Chicago Radio Raises Funds for Summer Jobs
Forty-seven Chicago radio stations have launched a joint fundraising campaign for One Summer Chicago 2017, the city's summer jobs program, the Robert R. McCormick Foundation announced on Tuesday.
WGN-AM helped to kick off the campaign at 6 a.m. Tuesday with a 24-hour radiothon. The campaign runs through June 30.
Phil Zepeda, a spokesman for the campaign, told Journal-isms by telephone that results of the radiothon probably would not be announced until the drive ends.
Former president Barack Obama announced May 3 that he and former first lady Michelle Obama would donate $2 million to One Summer Chicago and the Chicagoland Workforce Funder Alliance, a collaboration of foundations and corporate funders focused on employment equity, Alexia Elejalde-Ruiz reported May 4 for the Chicago Tribune.
NABJ Names Four to Hall of Fame
Michael Days, the Rev. Aisha Karimah, John Jenkins and Garth C. Reeves Sr. have been named to the 2017 class of the National Association of Black Journalists Hall of Fame, NABJ announced on Tuesday.
Days "has had an impressive career at numerous publications including Minneapolis Tribune, Gannett Rochester Newspapers, Louisville Courier-Journal, Wall Street Journal and Philadelphia Media Network, home of the Daily News — where he led Pulitzer Prize-winning coverage, and The Inquirer. . . ."
Jenkins, a veteran photographer and television executive, "spent the last 16 years leading the management team at NBC5/ KXAS-TV" in Fort Worth, Texas. "He is a long-time NABJ member, helping to form the DFW/ABC chapter, and the Society of Professional Journalists in 1981. . . ."
Karimah is a prize-winning television producer who "worked in Washington, D.C. for NBC/News 4 for 46 years. Ms. Karimah also produced programs for the Howard University station WHUT-TV, which was known as WHMM-TV. "Karimah retired in 2016 but she's just as active as part of the ministerial staff at Metropolitan AME Church where she said she continues, just like when she was at NBC, to address issues around social justice, community engagement, pipeline to prison, affordable housing and healthcare, because your work 'ought to be a reflection of who you are.' . . ."
Reeves, publisher emeritus of the Miami Times, "proudly boasts that he has had only one job in life and that has been working for the Miami Times, the newspaper his father founded in 1923. . . . Reeves served for 10 years as president of the Amalgamated Publishers of New York City, which represented over 100 African American-owned newspapers throughout the United States. He was also elected to serve two terms as president of the National Newspaper Publishers Association. . . ."
Short Takes
In a letter published Monday, more than 700 journalists in Iran urged newly elected president Hassan Rouhani to lift the ban on the Association of Iranian Journalists, an affiliate of the International Federation of Journalists, IFJ reported on Tuesday. "The offices of the AoIJ have been forcibly closed since 2009. . . ."
Bobby Henry, publisher of the Westside Gazette in Fort Lauderdale, Fla., is the recipient of the 2017 Angelo B. Henderson Community Service Award, the National Association of Black Journalists announced on Wednesday. "Citing his work in the area of HIV/AIDS, NABJ President Sarah Glover praised Henry for his activism in a critical area for all communities. He continues to be a vocal advocate for those infected and impacted by the disease. . . ."

The FCC has proposed to eliminate a set of rules that require radio and TV stations to maintain and staff studios in or near their communities of license," Doug Halonen reported Wednesday for current.org. "The main studio rule, which has been on the agency's books for almost 80 years, was originally intended to ensure public access to local broadcast stations. . . ." The agency's sole Democrat, Commissioner Mignon Clyburn, expressed qualms about eliminating the regulation altogether. "A broadcaster's main studio is often the only physical tie to a community . . ., " Clyburn said in a statement.
"Overall, Asian-American households have higher penetration percentages than general U.S. TV households and other racial/ethnic groups for nearly every emerging, or emerged, technology," Nielsen reported on Wednesday. "Smartphones in particular are an Asian-American favorite, as 93% of households have one, compared to just 85% of general U.S. households. . . ."
"The trailer for WHYY's new podcast about Bill Cosby opens with now-chilling sound bites from the career of 'America's Dad,' " April Simpson wrote Tuesday for current.org. Annette John-Hall, formerly of the Philadelphia Inquirer, hosts. Simpson also wrote, "The Philadelphia station will release the first episode of Cosby Unraveled Wednesday, launching a look at the man whose public downfall is evoking complicated responses in his hometown. Jury selection for Cosby's criminal trial on sexual assault charges began Monday . . . ."
"A recent Pew study finds 68 percent of Hispanic kids are growing up in homes where they only speak English, KGNS' Marco Revuelta reports," NBC News said May 18, presenting a video from the Laredo, Texas, reporter. Original report
"Portland's shrinking newspaper, The Oregonian, laid off more reporters this morning," Martin Cizmar reported Monday for Willamette Week. "According to a memo sent out to staff by editor Mark Katches, the layoffs will 'affect fewer than 10 people.' Four of the "fewer than 10" are veteran sports reporter Mike Tokito, sports writers Billy Gates and Pete Christopher, and music critic David Greenwald. . . ."
Sportswriter Nunyo Demasio told Facebook friends Friday, "I've launched a podcast for biographical conversations — and a bit of comedy — with influential figures. My first episode tries to give Insight into the man behind the NBA Commissioner Emeritus: David Stern recalls defeating Donald Trump in a tennis match; critiques Hillary Clinton's slogans; explains a 'revolutionary' basketball technology that he and Magic Johnson have invested millions in . . . ."
"The Ethiopian Federal High Court's conviction of Getachew Shiferaw, editor of the news website Negere Ethiopia, on charges of inciting subversion is a further blow to press freedom in the country," the Committee to Protect Journalists said Wednesday. Shiferaw's lawyer said the charge is based on an "allegation that Getachew in an exchange of private messages on Facebook told journalist and activist Abebe Gellaw that it would be a 'good alternate method of struggle' for Gellaw to intervene publicly against former Ethiopian prime minister Meles Zenawi. . . . Getachew denies the communication took place. . . ."
" 'Eskinder Nega's courage made him a familiar name, a symbol of resistance for many Ethiopians,' exiled Ethiopian journalist and human rights activist Mesfin Negash told attendees of the International Press Institute (IPI)'s 2017 World Congress in Hamburg on Thursday as he accepted IPI's 2017 World Press Freedom Hero award on behalf of Nega, who remains in prison in Ethiopia," IPI reported on Saturday.
"Nigerian authorities' demolition of the office of radio Breeze 99.9 FM is a shocking affront to press freedom," the Committee to Protect Journalists said Tuesday. "State authorities in Nassarawa, roughly 200 kilometers (124 miles) east of the capital Abuja, on May 20 demolished the radio station's office and transmitter while police shot in the air to disperse a crowd that had gathered to try to save the station, according to media reports. . . ." Authorities said the office was demolished for not having approval to operate in a residential area, but station managers said they believe the state demolished their office in retaliation for the station's broadcasts.
"Antediteste Niragiri has been released from Burundian police custody," Deutsche Welle reported Tuesday. "The DW correspondent had been handed over by authorities after spending several days jailed in the Democratic Republic of Congo. . . . The correspondent for Deutsche Welle (DW), Germany's international broadcaster, was arrested on May 17 while preparing to report on a refugee camp near the DRC town of Kavimvira. Authorities had accused him of espionage. . . ."
"Police officials should identify and discipline the officers who assaulted dozens of journalists in the eastern Indian city of Kolkata today," the Committee to Protect Journalists said on Monday. "Journalists at the scene said police assaulted dozens of reporters covering a protest, then forcibly cleared a demonstration the journalists staged to protest their treatment. . . ."
---
Support Journal-isms Go Fund Me page 

Richard Prince's Journal-isms originates from Washington. It began in print before most of us knew what the internet was, and it would like to be referred to as a "column." Any views expressed in the column are those of the person or organization quoted and not those of any other entity.
Send tips, comments and concerns to Richard Prince at journal-isms-owner@yahoogroups.com.

Follow Richard Prince on Twitter.
Like "Richard Prince's Journal-isms" on Facebook.
Journal-isms is originally published on journal-isms.com. Reprinted on The Root by permission.